Buying last year's model can often equate to big savings. But what if you're interested in the latest & greatest? Doing so often means getting access to cars offering greater efficiency and newer technology.
Here, we've listed deals on completely redesigned and updated cars & trucks available in the month of November. Special offers listed here are available nationally unless noted otherwise.
Updated November 14
2018 Nissan Sentra
Updated
$1,500 Cashback or 0% APR for 36 months
Reasons To Buy: More standard equipment, like how the popular Sentra SV now comes with 16-inch alloy wheels and dual-zone climate control. The car also now offers emergency braking at no extra charge to better compete with the Toyota Corolla.
Special Offers: Here in the Los Angeles region, all 2018 Sentras are eligible for a choice between a $1,500 rebate or 0% financing for up to 36 months. Nissan is also offering 0.9% APR for 60 months or 1.9% for 72.
If emergency braking isn't a must-have, the 2017 Sentra is still easy to find and features $2,500 on most versions, but a whopping $4,000 on the sporty NISMO model. Or, you can lease one from just $149/month. Full deal coverage»
2018 Ford Mustang
Updated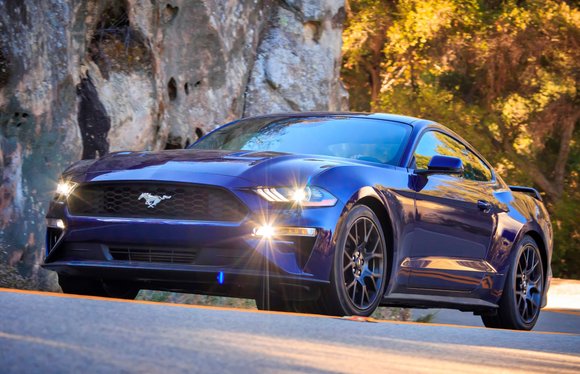 $500 rebate or 1.9% APR for 36 months
Reasons To Buy: More powerful V8, new 10-speed transmission, available all-digital dash, mild updates to front and rear design. A new pre-collision system with pedestrian detection is also available for the first time.
Special Offers: Choose between $500 cashback or 1.9% financing for 36 months (3.9% APR for 60 months). All versions are eligible except the Shelby GT350.
If you aren't keen on upgrading, the 2017 Mustang features up to $2,500 cashback or a promotional lease from $279/month here in Los Angeles. Full deal coverage»
2018 Ford Expedition
All-New
Up to $2,000 cashback or 2.9% APR for 36 months + $1,000 bonus
Reasons To Buy: All-new design featuring weight-saving aluminum. Updated V6 is now paired with a new 10-speed transmission for better fuel efficiency. 8-passenger capacity, family-friendly details like support for Android Auto and Apple CarPlay and 6 USB outlets.
Special Offers: The initial rebate on all 2018 Expeditions is $2,000. To get this amount, you'll have to take advantage of a $1,000 bonus for financing at non-promotional rates. The other option is to finance at 2.9% APR for 36 months with a $1,000 finance bonus.
In contrast, the 2017 Expedition is eligible for up to $7,500 cash and ranks as one of the best deals on an SUV this month. Full deal coverage»
2018 Toyota Tacoma
Updated
Up to $750 College Grad Rebate or $500 Military Rebate
Reasons To Buy: All Tacomas now come standard with Toyota Safety Sense including emergency braking, adaptive cruise control and lane departure warning, sway warning and more.
Special Offers: A $750 College Grad Rebate is available to those who've graduated within the past 2 years or intend to within the next 6 months. A $500 Military Rebate is available for active military and veterans, as well as family residing in the same household.
For reference, 2017 Tacomas are eligible for a $500 rebate in most parts of the country. When financing at non-promotional rates, you can stack the College Grad Rebate for $1,250 in savings. Full deal coverage»