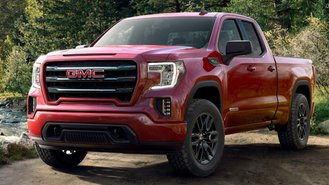 December is shaping up to be an excellent time to buy a truck thanks to aggressive year-end sales for buying & leasing. Our analysis has found double-digit savings worth up to $14,000 off select models, plus rare discounts we've never seen before and financing incentives promising 0% APR for up to 84 months. Here's a roundup of what consumers can expect to find in the final month of 2019.
The 2019 Toyota Tacoma is typically known for commanding high resale values and minimal discounts. However, December brings a $2,000 cash incentive in many parts of the country, the most we've ever seen on this model. In San Francisco, you can even lease a V6-equipped SR5 for as little as $209 for 36 months with $1,999 at signing. With an effective cost of just $265/month, we consider this one of the best leases on a truck. At that price, the $33,000 Tacoma can be as little as $4 more expensive than a Mitsubishi Mirage despite a nearly $17,000 difference in MSRP.
It may not be obvious, but now is probably the best time to buy a 2019 Honda Ridgeline due to a rare combination of offers. First, the model features 0.9% APR for 72 months, arguably the best financing deal out of any Honda. Next, dealers are being given unadvertised dealer cash incentives worth up to $4,000 to help spur sales. Even better, these incentives can be combined for maximum savings, a rare occurrence for a model typically excluded from deals. Expect to see the best savings on Sport and RTL styles.
Prefer a domestic brand? Here in California, 2019 Ford Rangers feature up to a $5,550 discount when choosing an XLT trim here in California. Alternatively, buyers have the option of taking 0% APR for 60 months plus a $2,900 cash incentive. On a $30,000 truck, choosing low-interest financing could save you an additional $584 based on a 5-year loan at 5% and result in a lower payment. Just be aware that non-XLT styles feature less than half the amount of rebates.
Looking for double-digit savings? 2019 GMC Sierras offer up to $14,030 in discounts when choosing a loaded Denali Crew Cab as part of a 20% off promo. The 2019 RAM 1500 continues to offer an Employee Pricing deal, with Big Horn Crew Cabs advertised with as much as $10,146 in savings here in California. Older models like the 2019 GMC Sierra Limited continue to feature 0% financing for a whopping 84 months.