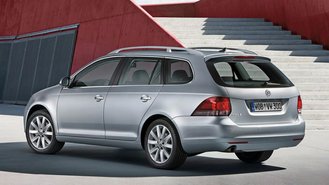 It was going to happen eventually- the Volkswagen Jetta SportWagen is close to selling out. However, the all-new Golf SportWagen has been steadily arriving onto dealer lots. In addition, Volkswagen has been tweaking incentives in a way that seems to go against what shoppers might assume about which should have the best deals. Here's what you need to know.
Replaced
Shoppers may not know that the outgoing Jetta SportWagen had more in common with the older-generation Golf than it did with the Jetta. Although it was incredibly long in the tooth, owners appreciated its versatile design and efficient diesel models capable of up to 42 mpg on the highway.
The all-new Golf SportWagen is based on the award-winning 7th generation Golf. In addition to an updated design, it gets new powertrain options such as a more fuel-efficient 1.8-liter turbocharged 4-cylinder good for up to 36 mpg highway. A revised 2.0-liter turbodiesel gets a minor improvement to 43 mpg highway.
Check local availability for the Jetta SportWagen>>
Older= not necessarily a better deal
If you're thinking that the outgoing Jetta SportWagen will feature incredible deals, that may not be the case. The best incentives on 2014 models ended last month and Volkswagen has been shifting deals to 2015 models. If you're looking for an outstanding deal, you'll need to shop around for a dealer motivated to sell their final inventory.
On the other hand, the Golf SportWagen has been getting attractive offers. The S with automatic transmission can be leased for $309 per month for 36 months with $2,349 at signing. Interestingly, the TDI S can be leased for only $10 more per month despite having a much higher MSRP. This puts an interesting spin on the usual debate between gas vs. diesel.
See current deals on the Golf SportWagen>>
Our take
If you have a special preference for the outgoing Jetta SportWagen, now may be your last chance to find one. However, just because it was discontinued may not equate to unbelievable deals at this stage. Offers on the new Golf SportWagen, specifically the diesel models, make a compelling case to say goodbye to the older model and upgrade to Volkswagen's latest and greatest.
Get a free quote on the new 2015 Golf SportWagen>>
Looking for the best way to keep track of purchase and lease deals? Check out our CarsDirect Pricing Insider and Deals Articles pages for tips and advice on picking the right time to buy or lease your favorite car or truck.
Offers listed here are based on a resident in Southern California and may be subject to change. Most lease offers are for well-qualified buyers based on available credit and exclude tax, license, title, registration, document fees and insurance. Not all buyers may qualify. Please check with your CarsDirect Trusted Dealer to confirm offer details and eligibility.