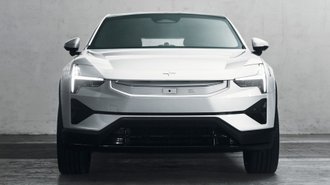 The all-new Polestar 3 could be more expensive to buy than a Tesla. According to an incentive bulletin sent to dealers, the brand's first 100%-electric SUV will debut with an introductory interest rate of 6.99% APR. That could make it more expensive to buy than a Tesla. The Polestar 3 may have another big disadvantage.
The first financing deal on the 2024 Polestar 3 is 6.99% for 60 months, with the same rate on both the Long Range Dual Motor and Long Range Dual Motor Performance. To get that interest rate, you'll need to have a minimum credit score of 700. This may not be the best deal you can get even with Fed rate hikes.
Tesla's online payment calculator for the Model Y lists a financing rate of 5.34% APR for loans up to 72 months in length. In terms of the total cost for two similarly-priced SUVs, this could make a loaded Tesla cheaper to buy. The fact that Tesla is offering a lower rate for 6 years could also give the Model Y an advantage.
EV shoppers may find the Polestar 3 better to lease than to buy. As we reported earlier today, the first Polestar 3 lease deal starts at $1,149 per month. Interestingly, a closer look found that the underlying money factor is 0.00208. That translates to an interest rate of 4.99%, noticeably lower than the 6.99% purchase rate.
Changes to the EV tax credit could complicate matters. That's because the Inflation Reduction Act will make a number of Teslas eligible for the tax credit again on January 1st. The downside is that we don't yet know for certain if Teslas will qualify for the full $7,500 due to new North American sourcing requirements.
For now, a Tesla could be the better buy. In an unusual move, Tesla is offering a $3,750 discount on EVs delivered in December. Unlike a tax credit, this is a discount that buyers can see immediately. Given that the Model Y's starting price is much lower than the Polestar, buying one now could be a smart move.