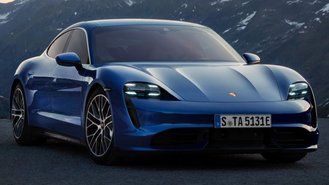 Porsche is paying dealers to get Taycan owners to upgrade in a push to promote the high-tech EV's Function-on-Demand services. According to a bulletin sent to dealers, the program involves an unusual form of discount whenever a Taycan owner opts to purchase a range of advanced features via over-the-air updates.
The Porsche Connect Function-On-Demand Incentive Program involves a 5% discount off the price of any Function-on-Demand services purchased and activated within the first 3 years. Porsche says "the purpose of the program is to incentivize Porsche dealers to promote FoD and increase customer awareness and sales."
FoD is still a relatively new concept that we've seen employed before from Tesla. With the Taycan, it offers the ability to add or remove features like Active Lane Keeping, the brand's InnoDrive advanced adaptive cruise control, or an Intelligent Range Manager via monthly subscription or as a lifetime activation.
Unfortunately, the true nature of this incentive is not at all straightforward. For example, unlike a traditional rebate, this is actually a manufacturer-to-dealer incentive that isn't being advertised. It's also unclear if this could actually translate to a discounted price for consumers or whether it will simply add to a dealer's profit.
These features don't come cheap. For example, Porsche's website says InnoDrive adds $3,610 to the price of a Taycan Turbo when purchased from the start. That said, the incentive represents a way to promote a technology that some buyers may not even know can allow them to pick and choose features after the fact.
By offering the ability to add features later, Porsche says "this flexibility allows customers to experience features before purchasing them and to only pay for services when they actually are being used." However, it also means that the "selling" experience may not necessarily end when you drive your car off a dealer's lot.
On the flip side, one could argue that the Taycan should include many of these features from the start. Although there's now a sub-$100,000 base model, higher-end trims can easily approach $200,000 with options. As we reported recently, the brand is planning to add a wagon called the Taycan Cross Turismo this summer.