Last year, Volvo introduced the T8 Excellence, an ultra-swanky variant of the XC90 with an MSRP of $105,895. Its premium of $36,000 over the next-priciest XC90 Hybrid grants access to an executive's fantasy of exclusive features.
However, despite its high price tag, Volvo is making a determined effort to help dealers clear leftover 2017 stock with up to $23,500 in unadvertised discounts. As a result, it may be possible to find one for less than a Range Rover Sport.
So how does the deal work exactly? Do you need to do anything in order to qualify? Are non-hybrids eligible? And is now the best time to buy?
Here's what you need to know.
Serious Discounts
Through August 31, Volvo is offering a $20,000 bonus to help dealers sell all remaining 2017 T8 Excellence models. At the same time, the automaker has introduced a brand-new $3,500 conquest bonus for any customers coming from a list of eligible competitors.
Simply show proof that you own or lease one of the following brands: Acura, Audi, BMW, Cadillac, Infiniti, Jeep, Lexus, Lincoln and Mercedes-Benz. It's not necessary to trade-in your vehicle, plus you can share the discount with members of the same household.
Altogether, that's $23,500 in potential savings.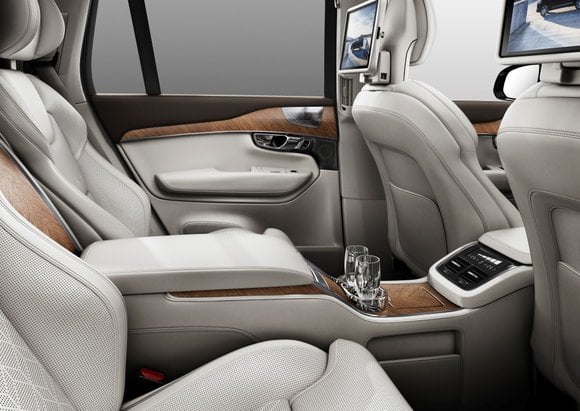 Due to the rather extreme nature of these discounts, we reached out to the automaker to confirm. According to Volvo spokesperson Russell Datz, the numbers are correct. That said, Datz made a point of mentioning that the brand's offers are "near average for luxury brands", although this is an obvious exception.
Like other XC90 Hybrids, the Excellence features a 400 hp twin-engine powerplant. However, it gets unique features like a spacious 4-person layout with reclining rear seats, a 20-speaker sound system, a rear-seat refrigerator and matching crystal gear shifter and drink glasses. Production is limited and the vehicle is generally quite hard to find.
Now that the 2018 XC90 has arrived, expect to see some of the best prices of the year on last year's model. With every discount, we think it's entirely possible to see prices at the low end of $80,000. In one instance, we've even found a dealer advertising the Excellence at just $73,500 after a nearly $9,000 dealer discount.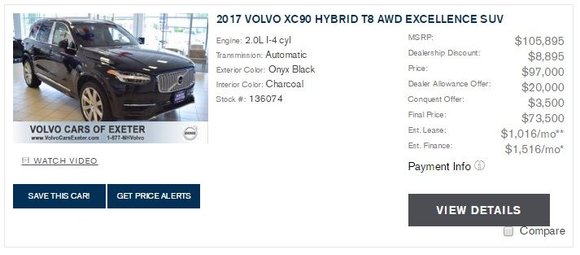 Best Time To Buy?
In some cases, the Excellence could be a compelling value next to vehicles like the Range Rover Sport, which starts at $86,645 before optional equipment. Like many plug-in hybrids, the XC90 is eligible for a federal tax credit worth up to $4,585. However, it should be noted that the vehicle is no longer eligible for the Clean Vehicle Rebate here in California.
As of November 1 of last year, the model was disqualified due to updated range requirements (it has a range of 14 miles on electric power, or 350 miles with the gas engine). In contrast, the Chevy Volt can drive 53 miles on EV power and is eligible for a $1,500 state incentive.
If you aren't keen on ponying up for the Excellence, it's a great time to buy the regular XC90. Here in Los Angeles, there's a $1,500 rebate on the T6 Inscription and R-Design. With the conquest bonus, shoppers have up to $5,000 in potential savings, making this the best deal we've seen all year.
Expect stock to dwindle significantly in the coming months.