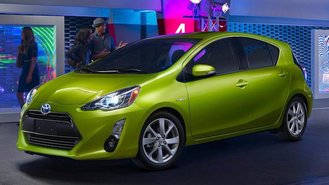 If you're a green car shopper in California, you may be in for a surprise. Incentives announced April 1 show a major push for the Prius family of models. In particular, the frugal Prius c gets unheard-of discounts as high as 9.8% off MSRP. It might be April but these savings are no joke. Here's what you need to know.
Incredible offer on Prius c
Toyota is boosting rebates on all Prius models this month to $2,000 in Socal. We had to do a double-take on this one. This means the automaker just increased the discount on the 2015 Prius c from $750 to $2,000, a 166.6% increase. Cruel April Fool's joke? We don't think so.
Think this is part of some kind of final clearance? That's not the case. This is on the refreshed 2015 model that sports an edgier front-end compared with the outgoing 2014 version.
A $500 rebate is pretty normal on the Prius c. A $2,000 discount? Definitely not. With a base price of just $20,365 including destination, the current rebate equates to a 9.8% savings before dealer discounts. Current offers expire May 4.
We think the Prius c will make a compelling case this month for shoppers- it gets up to 46 mpg highway, has a versatile hatchback design and gets a tighter front end compared with last year's model.
Find out how good a price you can get on a Prius c>>
Other models get improvements
Discounts on the rest of the Prius lineup get honorable mentions, too. The Prius, Prius v, and Prius Plug-in all get $500 increases for April.
We're most impressed by the improvements on the Plug-in model. We typically see incentives skewed toward leases, but this month's improvement to $2,000 is truly unusual.
If you prefer a lease, you can drive a 2015 Prius Plug-in from $299 for 36 months with $1,999 at signing and a 12k/year mileage cap. Don't forget- California renewed HOV access on January 1, which means you can bypass regular traffic if you apply for a Clean Air Vehicle sticker.
Get a custom lease quote on a Prius Plug-in>>
Our take
We think April is a great month for California shoppers to consider any model in the Prius family. Socal shoppers in particular have an opportunity to obtain previously unheard-of discounts on frugal options like the Prius c.