RAM's biggest trucks are now eligible for the brand's best deal. According to bulletins sent to dealers on Saturday, all versions of the 2019 RAM 2500 and RAM 3500 pickups are eligible for 0% APR financing for up to 84 months. This marks the best national offer to date and could make now one of the best times to buy.
While Detroit's Big Three have each been offering 7-year interest-free loans since March, Ford and FCA both excluded their biggest trucks. GM has been offering the deal on the 2019 Silverado HD, but this may be meaningless for most shoppers given that the truck has largely sold out based on national inventory listings.
As a result, those looking for serious towing capability may find this a rare opportunity to enjoy the same discount on either of RAM's Heavy Duty pickups. Here's what that means in terms of monthly payment and cost.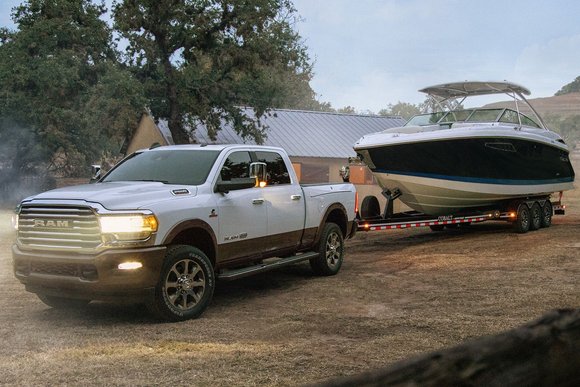 Previously, RAM's HD trucks weren't eligible for low 84-month rates. The closest match was 5.9% APR for 72 months. On a $50,000 truck, that came out to almost $9,500 in interest at $826/month before taxes & fees. Now, the same truck can be had for $595/month with zero interest, an advantage of over $230/month.
Meanwhile, Ford's lowest 84-month rate on the F-250 and F-350 Super Duty is currently 7.9% APR. That comes out to over $15,000 in interest costs alone in the case of a $50,000 truck. Having said all that, there are a few important catches that shoppers should know about before heading to their local dealer.
Unlike standard financing, RAM's deal is a standalone offer you can't combine with other incentives. Here in California, that means a choice between 0% APR and a $2,000 rebate. However, that's not much of a choice. With the rebate, a $50,000 truck would cost $4,349 in interest based on a traditional 5-year loan at 5%.
It's also worth noting that only 2019 trucks are eligible for the offer, and for consumers with stellar credit. Fortunately, national inventory listings show a significant number of 2019 HD pickups still left in stock at dealers. Will Ford and Chevy follow suit by expanding 0% APR to their biggest trucks? That remains to be seen.
Buyers have been flocking to an increasing number of 0% APR deals, although there are some significant risks. For example, those looking trade-in their truck early may find they owe more than what their vehicle is worth. In contrast, those with an eye on long-term ownership may find this a deal that they can't refuse.
Offers end April 30.