Although the best truck discounts tend to come with a catch, this month's deal on the RAM 1500 appears to take the cake. With nearly $16,000 in advertised savings, the brand's flagship pickup may seem like a stellar deal. However, our analysis finds that the offer isn't really a discount and is immensely misleading.
RAM's website touts "$15,960 in total value" on the 1500 pickup here in California (screenshot further down this page). But if you look at the fine print, the truck in question — a 2021 RAM Rebel 4x4 Crew Cab — offers just $2,000 in rebates. The remaining $13,960 is listed as "estimated finance savings."
So what does that even mean exactly?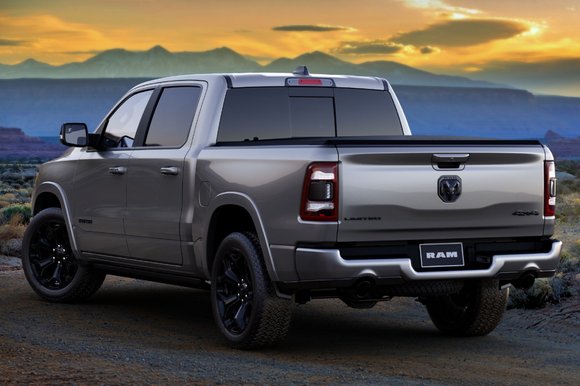 According to RAM, the number expresses how much you'll save compared to a rate of 7.24% APR over the course of 5 years. But the other assumptions are less clear. While the truck in question has an MSRP of $71,660 and is eligible for 0% APR, the estimate is based on "models financed 11/1/20-11/30/20."
While it may be obvious that a 0% loan would save more money than one at 7%, we consider the company's message misleading and largely irrelevant. The fact is that there isn't a $15,960 discount on the Rebel, and the amount stackable with 0% APR — totaling just $2,000 this month — is seriously unimpressive.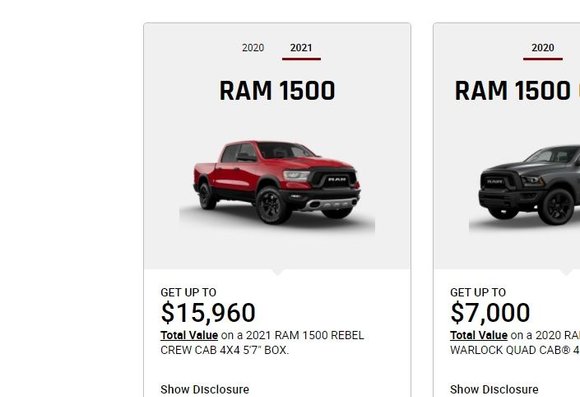 In contrast, Chevy has brought back crazy APR deals across its lineup. In the case of the 2021 Silverado 1500 Crew Cab, you'll find 0% APR for 72 months plus $2,500 in down payment assistance through GM Financial. Coming from a competitor can also get you up to a $750 conquest bonus for $3,250 in savings.
Truck incentives can often favor certain styles and conflate rebates with package discounts you may not be eligible for. For example, opting for a RAM 1500 Big Horn offers $6,500 in rebates. However, the better-equipped Laramie model offers just $2,500 in savings, while the entry-level Tradesman offers a paltry $500.
Meanwhile, the 2021 F-150 actually debuted with as much as $3,000 in savings. While early leases for Ford's newest truck are awfully expensive, there are hidden discounts. Sadly, even Ford has been guilty of using misleading discounts and we seriously doubt that this will be the last time we see a dubious-sounding deal.
Current offers end on February 1, 2021.