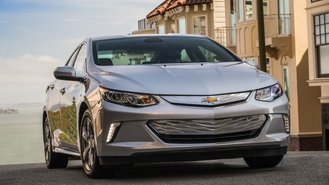 The redesigned 2016 Chevy Volt has begun arriving in select areas. With it come attractive advances like a new platform, improved fuel economy and electric driving range of up to 53 miles. However, shoppers in states that get the car first may not have to wait long to get a good deal- GM has given itself a running start by unleashing as much as $1,500 in cash incentives. On the flip side, Volt owners in states that won't see the car until next year are being offered an unusual incentive meant to keep them from switching brands. Here's what you need to know.
Deal overview
Through November 2, residents in select regions can get a $1,000 purchase bonus on the 2016 Volt. The incentive, called the Volt Incremental Consumer Cash Program, is being offered in the following states: California, Connecticut, Massachusetts, Maryland, Maine, New Jersey, New York, Oregon, Rhode Island and Vermont.
While the deal cannot be combined with promotional APR or lease offers, it is compatible with a separate $500 incentive targeting current non-GM lessees. As a result, qualified shoppers can potentially save up to $1,500 before even factoring dealer discounts.
When you consider that the Volt has been completely redesigned, it's quite unusual to see such a generous offer so soon when inventory has barely arrived. Chevy isn't advertising a promotional lease deal yet on the 2016 model, creating an apparent advantage right now for shoppers looking to buy.
Learn more about the 2016 Chevy Volt>>
Bizarre twist
As we might expect, GM has sweetened offers on the outgoing 2015 Volt. Standard discounts now amount to $2,500, factoring a $1,000 customer cash offer and $1,500 bonus. The offers are national and run through November 2.
There is also a $2,500 loyalty bonus for owners of a 2011 or newer Volt. Unfortunately, the loyalty discount cannot yet be applied to the 2016 model, which seems a bit counter-intuitive.
Apart from using the loyalty offer toward a 2015 Volt, shoppers should be aware that GM has augmented the deal to include up to 16 different models in October. But what's really bizarre is that this includes vehicles one wouldn't expect to be cross-shopped with an older Volt.
Key 2015 models that get the extra $2,500 off include: Camaro, Colorado, Cruze, Equinox, Impala, Malibu, Silverado, Suburban, Tahoe, Traverse and Trax. 2016 models include: Colorado, Cruze Limited, Equinox, Impala, Malibu Limited, Silverado, Suburban, Tahoe, Traverse and Trax. The Colorado is an especially unusual choice given its popularity and how GM never offers cash discounts anywhere near that amount.
Side-by-Side: 2016 Chevy Volt vs. 2015 Chevy Volt>>
Our take
While we're naturally wondering why a shopper would switch from a Volt to a Camaro, the fact is that GM has chosen to roll-out the 2016 Volt in green-friendly states like California first. A wider debut is not expected until the 2017 model year reportedly sometime next Spring.
We think it's reasonable to suspect GM is hoping current Volt owners unable to access the new model until then won't flip to another brand. Whether or not the program has any traction with shoppers remains to be seen. Clearly, shoppers considering either a 2016 or 2015 Volt have some compelling offers to consider this month.
Check local Volt availability in your area>>
For an easy way to find the best deals, visit the CarsDirect Deals Page for the latest deal-related news and analyses. Browse expert buying advice updated monthly on nearly 300 models for insider insights you'll only find at CarsDirect. Be sure to sign up for email alerts to have the latest deals delivered straight to your inbox.