When it comes to encouraging plug-in vehicle adoption, California has undoubtedly been a leader. Thus far, the state's Clean Vehicle Rebate for buying a plug-in hybrid or electric car has largely been treated equally. That's set to change in early 2016 due to new income-based rules that will determine eligibility. So when will the new program start? And who will and won't be eligible? Here's what you need to know.
Timeframe for new rules
Earlier this year, the California Air Resources Board proposed the addition of new income-based criteria for the state's Clean Vehicle Rebate Project (CVRP). According to a posting on the group's website today, the proposal has since been approved with implementation anticipated to begin in mid-March of 2016.
The changes involve greater support for applicants earning less than 300% of the Federal Poverty Limit (currently $35,310 for individuals and $60,270 for a family of three). On the other hand, those at the top end of the income spectrum will no longer be eligible for the rebate on EVs and plug-in hybrids.
It should be noted that support for hydrogen vehicles like the Toyota Mirai is continuing at $5,000 for mid and high income earners and at an increased amount of $6,500 for lower income applicants. We've listed the basic amounts below. Be sure to check the program website for complete rules.
Income Level
Electric
Plug-in Hybrid
Fuel-Cell
Less than 300% of Federal Poverty Limit
$4,000
$3,000
$6,500
300% o

f Federal Poverty Limit

to $250k
$2,500
$1,500
$5,000
> $250k for Individual Filers
> $340k for Head-of-Household
> $500k for Joint Filers
Not Eligible
Not Eligible
$5,000
Source: California Air Resources Board (PDF)
Incentive to buy now?
Now that a start timeframe has been announced, plug-in buyers have a lot to think about. For those who will qualify for the additional support, it probably makes sense to wait until the new rules take effect.
For shoppers in the middle-tier, it's reasonable to say timing may not matter since rebates will continue unchanged from their current amounts. However, at the upper end of the spectrum, it may be a no-brainer that shoppers may want to buy or lease before the current rules change.
Other considerations
Shoppers not in a rush may want to consider that the California DMV recently exhausted their entire supply of green single-occupant HOV lane stickers for plug-in hybrids like the Chevy Volt. Applications are still being accepted but there is no guarantee if and when more will become available. Note that EVs like the Nissan LEAF are not subject to the limitation since they involve a white sticker that has no limit on the number that can be issued.
Where are the deals?
As we found in our monthly green car deal roundup, there are some exciting special offers on plug-in hybrids and EVs right now in California. Note that most offers are set to expire January 4.
If you're looking to buy a plug-in, the 2016 Chevrolet Volt is hard to ignore, with an all-new design and improved driving range. GM is currently offering a $1,000 rebate or a 39-month lease from $299 per month with $500 at signing. Non-GM lessees can get a $500 bonus that can turn this into a zero-down lease.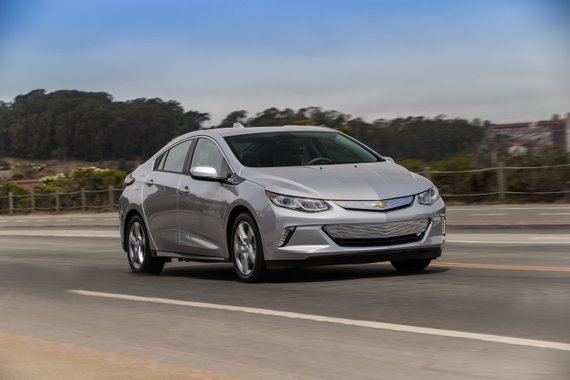 When it comes to EVs, the 2015 Chevy Spark EV has the lowest effective lease cost out of every EV we looked at. In California, it can be leased from $138 for 39 months with $0 due at signing. There's also a $1,000 rebate for shoppers looking to buy.
Shoppers able to spend a bit more may appreciate a discounted lease on the 2016 Volkswagen e-Golf SE featuring $0 at signing and payments of $259 for 36 months. Non-VW owners can benefit from a $1,500 conquest bonus as well.
Our take
With the new rules anticipated to take effect next March, shoppers at both ends of the income spectrum may want to consider timing their next purchase or lease accordingly.
For an easy way to find the best deals, visit the CarsDirect Deals Page for the latest deal-related news and analyses. Browse expert buying advice updated monthly on nearly 300 models for insider insights you'll only find at CarsDirect. Be sure to sign up for email alerts to have the latest deals delivered to your inbox.
Offers listed here are based on a resident in Southern California and may be subject to change. Most lease offers are for well-qualified buyers based on available credit and exclude tax, license, title, registration, document fees and insurance. Not all buyers may qualify. Please check with your CarsDirect Trusted Dealer to confirm details and eligibility.