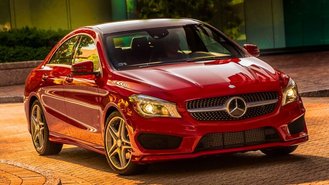 A sub-segment of luxury cars advertised below $30,000 has made waves over the past year. A mix of attractive cars, compelling deals, and marketing magic have arguably been changing the face of luxury. However, this year that success is transforming into something else- higher prices. A degree of fact and fiction exists around these changes that luxury car shoppers may want to be aware of. Here's what you need to know.
The magic price?
Mercedes-Benz made big news when they introduced the CLA-Class in 2014. With a $29,900 base price before destination charge, it undercut rivals like Lexus and BMW by thousands. Audi followed with the redesigned A3 priced identically at $29,900.
Not everyone followed. A Lexus executive was quoted as saying a sub-$30k car "wouldn't be a Lexus" since a lower price would inevitably tempt a drop in quality.
Side-by-Side: Compare entry luxury sedans>>
Ending the trend they started
This year, Mercedes-Benz bucked the trend it started by hiking prices of the CLA up to 5%. Pricing increased to $31,500 with no change in equipment following a wildly successful first year.
Audi recently joined this trend with the 2016 A3 due to arrive this summer. Prices went up $1,000 to $30,900 with minimal changes in standard equipment.
Head-to-Head: Mercedes-Benz CLA250 vs. Audi A3>>
Dwindling field
There are few models in the luxury segment that slot below $30,000. The closest remaining matches are the Acura ILX and Buick Regal.
ILX pricing continues to be competitive at $27,900. However, sales have been flat despite a substantial refresh for the 2016 model year. Acura has been using a slew of lease deals like a $310 per month, zero-down offer to appeal to shoppers.
Buick is going a completely different route by doubling-down on price. The automaker recently announced the Regal 1SV, a new base model with a non-turbo engine priced at $27,065. It now undercuts the ILX by $835.
Confirm your price on the 2016 Acura ILX>>
Cars that don't exist
While price changes are worth being aware of, we generally suggest shoppers keep expectations grounded in reality. And the reality is that luxury cars are expensive.
One of the quirks is that base models barely exist and that almost every car comes with some type of Premium Package. On the 2016 A3, it costs $2,700. On the CLA, it's $2,300 (or $3,950 if you opt for leather seats). On the IS, the popular combo of Premium and Navigation adds $2,905.
You might think it's clever marketing, and that's because it is, sort of. It's also a way that luxury automakers let shoppers equip their cars with such varied options. As a result, setting the right expectations is important within the context of luxury car shopping.
Learn what to ask when you see differences in MSRP>>
The numbers shoppers care about
When it comes to numbers, attractive lease rates have arguably made a bigger difference when it comes to making a luxury car fit into one's budget. Interestingly, it was the brand that refused to compete solely on price that has one of the best deals.
At $349 per month for 36 months with $1,099 due at signing, the IS 250 ranks as one of the best deals in the segment. Sure, the CLA has a lower payment of $329, but it also requires $3,623 at signing. Between the payment and amount due, the IS comes out to a better deal when you consider its MSRP is $3,400 higher. Nothing from BMW or Audi comes close.
Get a custom lease quote on the Lexus IS 250>>
Our take
The concept of the sub-$30k luxury car appears to have gone as quickly as it became a conversation topic. Luxury automakers clearly used 2014 as a time to gauge what resonates with shoppers.
Although we have little control over marketing decisions from automakers, shoppers will be served by setting the right expectations in advance. Part of the process has, and will continue to be, finding the right vehicle at the right price given real-world availability.
Research and build your next car>>
Incentives listed here are based on a resident in Southern California. Lease offers are based on top-tier credit and exclude tax, license, title, registration, document fees and insurance. State-level incentives can vary, so please check with your CarsDirect Trusted Dealer to confirm all available offers in your region.
Visit our CarsDirect Pricing Insider page for pricing and deal analyses for over 300 models. Sign up for email alerts to have our analyses delivered straight to your inbox. Browse our Deals Articles for insider info on the latest new car incentives that can save you money.