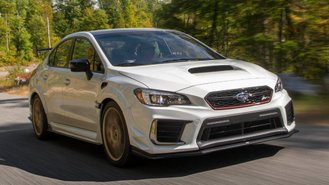 At $64,880 including destination, the new Subaru S209 certainly seems to push the limits in terms of price, costing over $22,000 more than a WRX STI Limited. There may be no getting around its high price, but a new incentive aims to help buyers finance what may be the brand's most expensive car yet.
According to a bulletin sent to dealers today, the S209 is now eligible for 3.49% APR for up to 63 months. Although that's definitely not as good as the 1.9%, 72-month deal available on all other WRXs, our analysis finds that the promo could save buyers a fair amount of money in interest.
On a $65,000 car, a loan at 3.49% APR would cost $71,231 and equate to a payment of $1,131/month before taxes & fees. In contrast, a loan at 6% over the same period of time would cost approximately $75,935 and come out to $1,205/month. That's a difference of $4,704.
Ready to buy? Not so fast. Subaru is only building 209 of the 341-horsepower cars as a mid-year addition for the 2019 model year. Second, cars that elusive tend to be subject to dealer mark-ups. As a result, buyers may find themselves having to pay a hefty premium.
Some might wonder whether or not they should just customize a regular STI. Alternatively, it's also worth noting that cars like the 2020 BMW M340i xDrive start at $56,995 and feature incentives this month like 3.35% financing plus a credit worth $2,500 here in California.
Current offers end October 31.