Tesla has abandoned its practice of estimating specific delivery months on its lineup of EVs. Buyers are now being given up to a 4-month delivery window on the company's electric cars, with some Tesla delivery dates stretching well into 2023 amid a chip shortage. The decision could have pros & cons for electric car buyers.
The move comes a week after Tesla raised prices by up to $10,000, and after Tesla models were barred from a $2,000 plug-in rebate in California called the Clean Vehicle Rebate Project. Depending on the configuration, the electric vehicle brand is now estimating delivery timeframes as long as 4 months on its website.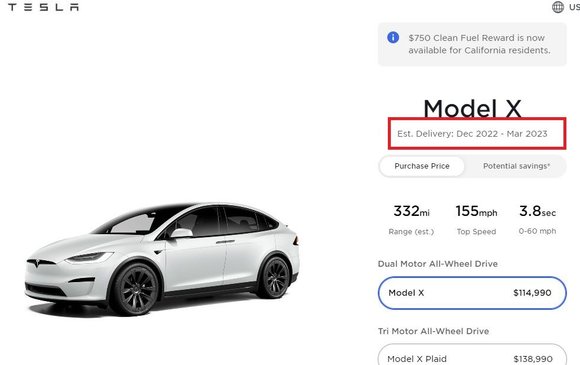 The Tesla Model 3 Long Range now has an estimated delivery window of June to August 2022. The Model Y Long Range is October 2022 to January 2023. The Model S Dual Motor is between July and September 2022. At the extreme end, the Model X Dual Motor, is from December 2022 to March 2023 as shown above.
While Tesla delays are nothing new amid a chip shortage, the timeframes could be frustrating for those looking to know when their cars will arrive. However, the move could be a way to better manage customer expectations. After all, on mainstream cars, buyers have already been experiencing long waits and uncertainty.
If you're looking to get the best deal on a Tesla, you may not have many options. Tesla doesn't offer preorder discounts, though locking-in a price with an order could be valuable. For example, after the loss of CVRP eligibility and last week's price hike, the cost of a Model 3 is up to $4,000 more expensive than earlier this month.