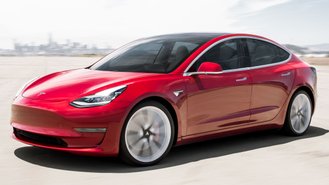 The cost to lease a Tesla has managed to stay unchanged following a recent interest rate increase. According to the company's online payment estimator, the lease prices for most of the brand's electric cars remain the same as last month. This could be a positive sign after the company raised its advertised financing rate.
As before, the 2022 Tesla Model 3 is listed at $499 for 36 months with $5,694 due at signing for a base model with rear-wheel drive and an MSRP of $48,190. That's the same price as last month, suggesting the brand may have kept its underlying lease rates unchanged despite an interest rate increase affecting buyers.
As we reported last Friday, Tesla interest rates went up from 2.99% to 3.24% APR on loans up to 72 months. The change affects all models, though our analysis found that this translates to a price increase of a little over $300. We also looked at Model Y, Model S, and Model X lease prices and found them unchanged, too.
A number of rate increases by major brands have outpaced the Fed rate hike. For example, Hyundai now has higher rates than Genesis, while Volkswagen is now advertising a higher rate than Audi at 4.7% APR. Financing rates from Infiniti went up by 2%, and Honda introduced a 1% interest rate hike for car buyers.
So is a Tesla better to lease than buy? Not necessarily. None of Tesla's lease incentives equates to what we'd call a great deal. To put that into perspective, Chevy is offering returning Bolt EV lessees payments from $219 per month, while the 2022 Kia Niro EV offers up to $8,900 in lease cash on some configurations.