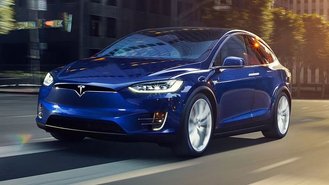 Consumers looking to purchase a Tesla are sure to be confused right now. The automaker drastically cut prices for its entire lineup earlier this month and then quietly increased pricing for the Model Y Long Range. Now, the automaker has another discount for a few of its vehicles. Consumers can choose a $3,000 trade-in discount or free Supercharging when they trade in an existing car.
Teslarati was the first to announce the news and confirmed that the incentive was only available for the Model S and Model X. The outlet claims that Tesla is reaching out to current owners and trying to get them to purchase a new vehicle with a $3,000 discount on a new Model S or Model X or three years of free Supercharging. The catch is that they have to trade in their current Tesla.
The outlet specifically said that the discount is only available to consumers who trade-in a Tesla, so we don't think this deal is available to non-Tesla owners. That thinking may be correct since the discount is called the "Ownership Loyalty Offer." This could be Tesla's way of ensuring current Tesla owners maintain loyal to the brand as new automakers introduce electric vehicles and reduce the prices for their electric options.
The trade-in discount ends "in February," but Tesla didn't provide the outlet with a specific date for when it will end. All Tesla would tell Teslarati is that it recommends current owners place their orders soon and that the trade-in discount is unavailable on the Model 3 or Model Y.
As the outlet points out, this is another way for Tesla to boost its sales figures. Usually, the automaker introduces discounts and incentives at the end of the quarter to boost sales, but it looks like the automaker is trying something by offering this discount at the beginning of the quarter.
At the beginning of the month, Tesla's price cuts set off a price war with other electric brands. Ford followed Tesla's lead with a dramatic price decrease on the Mustang Mach-E. VinFast followed suit with a $3,000 incentive on the VF8. We'll be interested to see if other brands follow Tesla and Ford with other price cuts in the near future. Volkswagen's CEO Oliver Blume recently stated that the automaker would not be decreasing the price of its electric vehicles, so price cuts won't be an industry-wide move.
Source: Teslarati