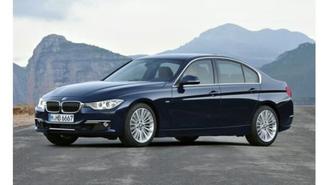 CarsDirect can help you find a great deal on a new car, even when you lease. Each month, we choose our favorite luxury lease deals -- this October we like the affordability of several sedan offers.
Beneath these highlights you'll find a complete list of special offers from Acura, Audi, BMW, Infiniti, Lexus and Mercedes-Benz.
Our Picks of the Month
Monthly Payment: $339
Term: 27 months
Due at Signing $2,999
MSRP: $40,527
Expires: November 14, 2013
Now based on the larger Toyota Avalon, rather than the Camry, the Lexus ES 350 boasts limousine-like rear space and Lexus cachet for a remarkably low monthly payment. Build & Price with Options »
Monthly Payment: $579
Term: 27 months
Due at Signing $4,699
MSRP: $56,695
Expires: October 31, 2013
The Mercedes-Benz E350 is the quintessential mid-size luxury sedan with an understated mix of status, luxury and comfort. Build & Price with Options »
CarsDirect Tip
Get more bang for your leasing buck with a premium car that holds its value well -- high residual values mean low monthly payments.
All October 2013 Lease Deals
| | | | | |
| --- | --- | --- | --- | --- |
| Model | Payment | Term (mos.) | Due at Signing | MSRP |
| 2014 Acura ILX | $209 | 36 | $2,499 | $27,795 |
| 2014 Acura RDX | $399 | 36 | $1,999 | $35,415 |
| 2013 Acura TL | $349 | 36 | $1,999 | $36,800 |
| 2014 Acura RLX | $479 | 36 | $2,999 | $51,845 |
| 2013 Acura TSX | $269 | 36 | $1,999 | $33,905 |
| 2013 Audi A4 | $360 | 36 | $4,680 | $32,500 |
| 2013 Audi A6 | $496 | 36 | $5,911 | $42,200 |
| 2013 Audi allroad | $430 | 36 | $5,530 | $39,600 |
| 2013 Audi Q5 | $439 | 36 | $5,173 | $35,900 |
| 2013 BMW 128i | $359 | 36 | $4,084 | $36,025 |
| 2014 BMW 320i | $319 | 36 | $3,794 | $36,875 |
| 2014 BMW 328i | $379 | 36 | $3,854 | $41,325 |
| 2014 BMW 335i | $449 | 36 | $4,174 | $46,525 |
| 2014 BMW 528i | $489 | 36 | $4,214 | $53,025 |
| 2014 BMW 535i | $589 | 36 | $4,314 | $57,525 |
| 2014 BMW X1 | $339 | 36 | $3,564 | $38,475 |
| 2014 BMW X3 | $469 | 36 | $3,944 | $44,425 |
| 2013 BMW X5 | $469 | 36 | $3,694 | $48,925 |
| 2013 Infiniti EX37 | $419 | 39 | $3,999 | $43,295 |
| 2013 Infiniti M35h | $599 | 39 | $3,999 | $59,855 |
| 2013 Infiniti M37 | $479 | 39 | $4,199 | 53,805 |
| 2013 Infiniti M56 | $699 | 39 | $5,299 | $67,755 |
| 2013 Infiniti QX70 | $469 | 39 | $3,999 | $50,245 |
| 2013 Infiniti G37 Convertible | $449 | 39 | $3,999 | $54,055 |
| 2014 Infiniti QX60 | $499 | 39 | $3,499 | $47,095 |
| 2013 Infiniti JX35 | $449 | 39 | $3,499 | $47,195 |
| 2014 Infiniti QX80 | $699 | 39 | $5,999 | $65,445 |
| 2013 Infiniti G37 Coupe | $299 | 24 | $2,999 | $44,555 |
| 2013 Infiniti G37 Sedan | $299 | 24 | $2,499 | $35,955 |
| 2013 Lexus CT 200h | $299 | 27 | $1,999 | $33,299 |
| 2013 Lexus ES 300h | $419 | 27 | $2,999 | $45,652 |
| 2013 Lexus ES 350 | $339 | 27 | $2,999 | $40,527 |
| 2013 Lexus GS 350 | $499 | 27 | $1,999 | $53,827 |
| 2014 Lexus IS 250 | $349 | 27 | $2,999 | $36,997 |
| 2013 Lexus LS 460 | $869 | 36 | $4,999 | $77,966 |
| 2013 Lexus LX 570 | $1,329 | 36 | $4,999 | $90,383 |
| 2013 Lexus RX 350 | $389 | 27 | $3,499 | $45,674 |
| 2013 Lexus RX 450h | $509 | 27 | $3,999 | $55,060 |
| 2014 Mercedes-Benz C250 Sport Sedan | $359 | 36 | $4,053 | $39,225 |
| 2014 Mercedes-Benz C250 Coupe | $399 | 36 | $3,844 | $41,120 |
| 2014 Mercedes-Benz C300 Sport | $379 | 36 | $4,073 | $42,825 |
| 2014 Mercedes-Benz E350 Sedan | $579 | 27 | $4,699 | $56,695 |
| 2014 Mercedes-Benz E350 Cabriolet | $709 | 36 | $5,003 | $64,525 |
| 2014 Mercedes-Benz E350 Coupe | $629 | 36 | $4,174 | $56,395 |
| 2014 Mercedes-Benz GLK350 | $419 | 36 | $4,613 | $41,855 |
| 2014 Mercedes-Benz ML350 | $609 | 36 | $4,903 | $52,415 |