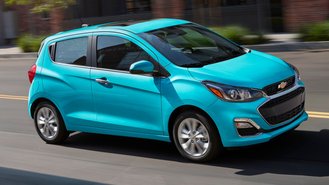 For those who are in the market for a car but don't want to break the bank, the 2021 Chevy Spark is the cheapest vehicle available to shoppers heading into the new year, starting at $14,395 (including destination fees). Small cars have continued to fall by the wayside as consumers continue to flock towards larger crossovers and SUVs. However, subcompact cars can still offer great options for those on a budget.
The Spark is now one of only two vehicles available under $15,000. The 2020 Mitsubishi Mirage starts at $14,990 but will soon be on its way out as it just went through a refresh for the 2021 model year, accompanied by a price increase and now starting at $15,565. The Nissan Versa went through a redesign recently causing its price to also increase and leading to a starting price of $15,855 for the 2021 model. Other options in the class include the 2021 Hyundai Accent ($16,390) and 2020 Kia Rio ($16,815).
It's important to note that although prices may seem low upfront, you'll likely have to pay extra as in most cases, the lowest price means having to opt for a manual transmission. In the case of the Spark, upgrading to the automatic transmission will cost you an extra $1,100, increasing the starting price to $15,495. However, that still undercuts the next cheapest automatic option, the Mitsubishi Mirage ES CVT ($16,590), by $1,095. The Kia Rio is the only vehicle in the class to come with a standard automatic transmission.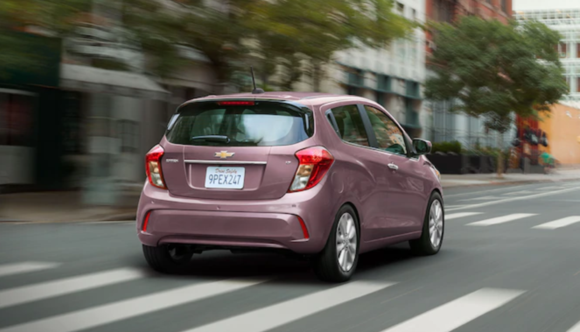 If you're looking to get into a subcompact car, financing is probably the best way to go. In most cases, small vehicles don't have any advertised lease offers and if they do, they can be extremely expensive relative to their low price tags. For example, the Chevy Spark doesn't have a lease deal in December but is eligible for an unadvertised financing offer of 0.9% APR for 72 months plus $1,200 in rebates that can also be combined with GM's Employee Pricing promotion.
Unfortunately, shoppers now have fewer options in this class as automakers have begun to stop producing subcompact cars due to their low popularity. The segment used to house vehicles like the Toyota Yaris, Honda Fit, and Chevy Sonic, all of which have been discontinued after the 2020 model year.
Luckily, many subcompact crossover options remain available but consumers still have to pay a fairly significant premium for the upgrade. In the case of the 2020 Honda Fit, the starting price was $17,145 but getting into the chassis-sharing 2021 Honda HR-V will cost $22,140, a $4,995 price difference. Upgrading from the Nissan Versa to the 2020 Nissan Kicks ($20,615) has a relatively smaller (albeit still significant) difference of $3,020.