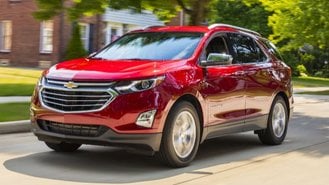 Now that every major brand is offering deals amid COVID-19, auto manufacturers are using every tool in their arsenal to attract new car buyers. The latest move involves a slew of Sign & Drive leases on some of America's bestselling cars, trucks, and SUVs. But are these deals really all that good?
Heres's what you need to know.
A deal on one of America's bestselling cars
On Tuesday, Honda rolled out a new Sign & Drive lease for the 2020 Civic, the first such offer that we've seen in probably over a year. In most states, you can now lease an LX Sedan from $240/month with $0 due at signing. Unlike a normal $0 down lease, the main benefit is that the deal covers your first month's payment.
Previously, the car was advertised at $189 for 36 months with $2,099 at signing, which comes out to $247/month. Dealer leasing bulletins show the most significant change involves a lower interest rate equivalent to 0.7% APR (down from 1%). That's nice, but we found some catches worth knowing about.
First, the offer can't be combined with a recently added $1,000 loyalty discount. It also can't be used in conjunction with a new $500 incentive for healthcare workers. Meanwhile, the 2020 Hyundai Elantra just got another $10 cut in payment and is the cheapest car you can lease with an effective cost of just $208/month.
Side-by-Side: Honda Civic vs. Hyundai Elantra »
Sign & Drive from Chevy, GMC, and Buick
On Wednesday, GM introduced Sign & Drive leases on some of its bestselling models. For example, the popular 2020 Chevy Silverado 4x2 Crew Cab can now be leased from as little as $331 for 39 months with $0 due at signing. That's probably one of the lowest prices we've seen to date.
Other eligible Chevys include the 2020 Trax and Equinox. Under the GMC brand, you'll find Sign & Drive leases on the 2020 Terrain, Acadia, and Sierra. Buick is offering deals on the 2020 Encore, Envision, and Enclave. Cadillac isn't participating, just like we saw with GM's 0% financing offers.
Sadly, a closer look reveals that nearly every one of these deals has a catch.
For example, the deal on the Silverado includes a $1,500 discount you can only get when coming from another GM lease. In the case of the Enclave, the brand's $390/month lease price includes a similar bonus worth $2,500. That's a lot of money to make up for if you aren't lucky enough to qualify.
More offers from VW
VW is now offering Sign & Drive leases across nearly its entire lineup. Even the all-new Atlas Cross Sport is eligible starting at $409 for 36 months with $0 due at signing here in California. However, our analysis finds that the regular Atlas is bigger and more expensive on paper but $10 cheaper to lease.
For the money, most of VW's leases are a poor value for the money. For reference, the 2020 Ford Edge SE is nearly $6,000 more expensive than the cheapest Cross Sport but can be leased from $269 for 36 months with $3,959 at signing. That comes out to $379/month before taxes & fees.