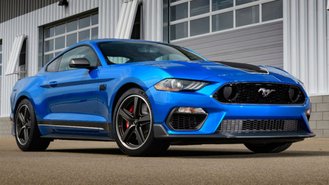 New car shoppers looking to "buy American" may be in for some of the highest prices this fall. Based on our analysis, models featured in a recent report about the "most American" production vehicles can be some of the worst cars you can buy right now if you're looking to score a deal or avoid paying a dealer markup.
The report from the Kogod School of Business at Washington D.C.'s American University cites the Ford Mustang GT, Chevrolet Corvette, Tesla Model 3, and Ford Bronco based on a special methodology for identifying "total domestic content." The downside is that each model has a major disadvantage for potential buyers.
For example, the 2021 Mustang GT's MSRP starts at $39,075 after a destination charge of $1,195 and the cost of an automatic transmission. Unlike cheaper versions of the Mustang, the GT is excluded from promotional leases. As a result, the automaker's website can't even give you an estimated lease payment.
Although Ford recently eliminated its minimum FICO for 84-month loans, the 7-year rate on the GT is 5.9%. On a $40,000 car, that would involve over $8,900 in interest before taxes & fees. For that kind of cash, you could potentially spend less on a $44,965 Dodge Challenger R/T Scat Pack after 0% APR for 72 months.
Chevy Corvette prices remain high over a year after its launch. In addition to dealer markups of up to $50,000, it's hard to find one with an MSRP under $70,000. In the case of the Model 3, buyers must accept the fact that the brand is no longer eligible for a $7,500 federal tax credit and that there are no factory rebates.
Finally, Ford's order books for the Bronco are so packed that the brand paused online reservations. In addition to having no rebates, it may be hard to even know if you can buy one until late 2022. Ford recently implemented a name-match policy to get its dealers to deliver a minimum number of SUVs to reservation-holders.