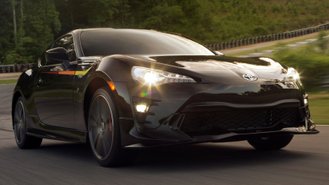 Although we've seen a flurry of lease deals ahead of Black Friday, the 2019 Toyota 86 is without a doubt the worst car you can lease. While the sleek, low-slung coupe is purposefully designed to appeal to budget-minded enthusiasts, this month's lease incentives make it a hideous choice in terms of value.
In the San Francisco Bay Area, Toyota's featured lease (screenshot below) is $489 for 36 months with $3,499 due at signing. That gets you a base trim with automatic transmission (MSRP $28,330) and an allowance of 12,000 miles per year. Like all Toyotas, it also comes with 2 years of free routine maintenance.
If that sound expensive, it's because it is. With an effective cost of $586/month before taxes & fees, we consider this the worst lease for any car. This determination is based on an analysis of over 370 leases for the month of November spanning 29 brands.
Let's put this in perspective.
At $586/month, that makes the 86 $126 (per month!) more expensive than a 2020 Subaru BRZ Premium ($460). That's $110/month more than a 2020 Jaguar XE S P250 ($476 based on an MSRP of $40,895). It's even $46/month more than a 2020 BMW 330i ($540 after a $1,000 conquest bonus for switching brands).
So why is the 86 more expensive to lease than a nearly-$45,000 German sport sedan? The answer lies in the details.
According to a dealer incentive bulletin, the offer in question is based on a money factor equivalent to 4.7% APR. There are also no lease cash incentives to help drive down the price. Coupled with a lackluster residual value, all of this translates to an awful lease.
Having said all that, those looking to buy will may be surprised by the level of discounts Toyota is offering. For example, shoppers in Southern California can enjoy a $3,500 rebate on all versions of the 86, plus a $2,000 bonus when choosing the TRD SE trim. That's $5,500 in savings simply for buying instead of leasing.
Current offers end December 2.
Learn more about the Toyota 86 »