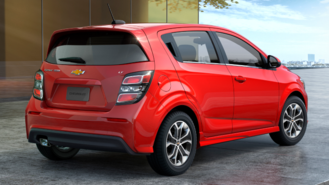 Shopping for a lease isn't always easy when a low monthly payment can easily be outweighed by the amount due at signing. We analyzed over 300 leases ahead of Memorial Day and found that America's worst lease is actually one of the smallest and most unassuming cars on the market.
With an MSRP of $20,295, the 2019 Sonic LT Hatchback is advertised on Chevy's website at $299 for 39 months with $3,069 due at signing. It comes with an allowance of 10,000 miles per year and equates to an effective cost of $378/month. That's $1 more than a $28,000 Honda CR-V, about the cost of a taco.
For comparison, the 2019 CR-V EX is listed at $299 for 36 months with $2,799 at signing, an effective cost of $377/month. While it's not the cheapest SUV you can lease, the CR-V offers desirable features like standard automatic emergency braking, a peppy 1.5-liter turbo, and Apple CarPlay/Android Auto.
Differences in residual values, discounts, and interest rates can result in some surprising chances to upgrade. Below you'll find a list of 119 vehicles with higher MSRPs than the Sonic that are cheaper to lease. The list is oriented by highest MSRP, but we've compiled a sortable list of all offers so you can make your own comparisons.
| | | | | | | |
| --- | --- | --- | --- | --- | --- | --- |
| Vehicle Name | Payment | Term | Amount Due at Signing | MSRP | Effective Cost | Region |
| 2019 Honda Clarity Electric Base (CA, OR) | $199 | 36 | $1,799 | $37,540 | $249 | CA, OR |
| 2019 Ford Flex SEL w/Appearance Pkg 202A (Select Stock, Incl. $1,500 Trade-in Bonus) | $149 | 24 | $3,649 | $35,685 | $301 | California |
| 2019 Jeep Wrangler Unlimited JL Sport 4dr with 24B Package | $289 | 48 | $1,899 | $35,040 | $329 | California |
| 2018 Jeep All-New Wrangler Unlimited JL Sport 4dr with 24B Package | $269 | 48 | $3,449 | $34,940 | $341 | California |
| 2019 FIAT 500e Base with 2EJ Package | $229 | 36 | $2,349 | $34,705 | $294 | California |
| 2019 Nissan Pathfinder S AWD | $279 | 36 | $3,099 | $34,390 | $365 | Los Angeles |
| 2019 Acura TLX 2.4L Base | $299 | 36 | $2,499 | $33,995 | $368 | National |
| 2019 GMC Acadia SLE-1 (Incl $2,000 Conquest/Loyalty Bonus) | $319 | 36 | $2,079 | $33,995 | $377 | California |
| 2019 Volkswagen e-Golf SE | $249 | 36 | $2,999 | $32,790 | $332 | CA, AZ, NV, OR, AK |
| 2019 Nissan Murano S (Incl. $750 Bonus) | $279 | 36 | $2,649 | $32,745 | $353 | Los Angeles |
| 2019 Ford Taurus SEL 201A (Select Stock) | $269 | 36 | $3,569 | $32,375 | $368 | California |
| 2019 Kia Sorento LX V6 FWD | $269 | 36 | $3,499 | $32,335 | $366 | CA & Select States |
| 2019 GMC Canyon SLE Crew Cab 4x2 (Incl $1,500 Conquest/Loyalty Bonus) | $279 | 39 | $2,939 | $31,995 | $354 | California |
| 2019 Hyundai Ioniq Electric Base | $239 | 36 | $2,500 | $31,235 | $308 | California |
| 2019 Acura ILX Premium A-Spec | $239 | 36 | $4,899 | $31,045 | $375 | National |
| 2019 Nissan LEAF S 40 kWh | $219 | 36 | $3,979 | $30,885 | $330 | Los Angeles |
| 2019 Kia Sorento LX 4-cylinder AWD | $249 | 36 | $3,499 | $30,495 | $346 | CA & Select States |
| 2019 Kia Niro Plug-In Hybrid LX | $249 | 36 | $2,999 | $29,495 | $332 | CA & Select States |
| 2019 GMC Terrain SLE (Incl $1,500 Bonus For Non-GM Lessees) | $259 | 39 | $2,159 | $29,295 | $314 | California |
| 2019 GMC Terrain SLE | $259 | 39 | $3,659 | $29,295 | $353 | California |
| 2019 Toyota Tacoma SR5 4x2 Double Cab 4-Cyl Short Bed | $259 | 36 | $1,999 | $29,260 | $315 | Southern California |
| 2019 Toyota Camry Hybrid LE | $289 | 36 | $1,999 | $28,909 | $345 | Southern California |
| 2019 Volkswagen Golf Alltrack S with Automatic (Sign & Drive) | $359 | 39 | $0 | $28,890 | $359 | CA, AZ, NV, OR, AK |
| 2019 Toyota RAV4 Hybrid LE | $299 | 36 | $1,999 | $28,795 | $355 | Southern California |
| 2019 Ford Mustang EcoBoost Coupe with Auto (Select Stock, Incl. $2,000 Conquest Bonus) | $219 | 24 | $3,119 | $28,710 | $349 | California |
| 2019 Kia Sorento LX 4-cylinder FWD | $229 | 36 | $3,499 | $28,695 | $326 | CA & Select States |
| 2019 Honda Accord 1.5T EX | $289 | 36 | $2,799 | $28,540 | $367 | Socal & Select States |
| 2019 Ford Fusion Hybrid SE Hybrid with Co-Pilot360 (Select Stock) | $209 | 36 | $3,059 | $28,450 | $294 | California |
| 2019 Honda CR-V EX | $299 | 36 | $2,799 | $28,295 | $377 | National |
| 2019 Toyota Prius Prime Plus | $309 | 36 | $1,999 | $28,280 | $365 | Southern California |
| 2019 Subaru WRX Base with Manual | $309 | 36 | $1,963 | $28,080 | $364 | Los Angeles |
| 2019 Honda Civic 1.5T Touring Coupe | $289 | 36 | $2,899 | $27,770 | $370 | Southern California |
| 2019 Nissan Rogue S AWD | $239 | 36 | $2,399 | $27,765 | $306 | Los Angeles |
| 2019 Honda HR-V EX-L AWD | $279 | 36 | $3,199 | $27,765 | $368 | National |
| 2019 Ford Escape SE 200A (Select Stock, Incl. $1,500 Trade-in Bonus) | $209 | 36 | $2,909 | $27,495 | $290 | California |
| 2019 Subaru Outback 2.5i with CVT | $239 | 36 | $2,239 | $27,320 | $301 | Los Angeles |
| 2019 Chevrolet Equinox LT (National, Current GM Lessees) | $229 | 39 | $2,389 | $27,200 | $290 | National |
| 2019 Chevrolet Equinox LT (National) | $229 | 39 | $2,889 | $27,200 | $303 | National |
| 2019 Honda Accord 1.5T Sport | $269 | 36 | $2,599 | $27,100 | $341 | Socal & Select States |
| 2019 Acura ILX Base with Dual-Clutch Automatic | $239 | 36 | $2,999 | $26,895 | $322 | National |
| 2019 Jeep Renegade Latitude 4x4 with 2XB Package | $229 | 36 | $4,449 | $26,870 | $353 | California |
| 2019 Hyundai Santa Fe SE (fmr Santa Fe Sport) | $239 | 36 | $2,799 | $26,795 | $317 | Los Angeles |
| 2019 Honda CR-V LX AWD | $259 | 36 | $2,599 | $26,795 | $331 | National |
| 2019 Hyundai Sonata Hybrid Base | $259 | 36 | $2,699 | $26,670 | $334 | Los Angeles |
| 2018 Jeep Renegade Latitude 4x4 with 2EJ Package | $229 | 36 | $4,149 | $26,620 | $344 | California |
| 2019 Jeep Compass Latitude 4x2 with 28J Package | $225 | 42 | $4,599 | $26,590 | $335 | California |
| 2019 Toyota RAV4 LE | $299 | 36 | $1,999 | $26,545 | $355 | Southern California |
| 2020 Kia Sportage LX AWD | $229 | 36 | $3,499 | $26,535 | $326 | CA & Select States |
| 2019 Toyota Camry SE | $259 | 36 | $1,999 | $26,470 | $315 | Southern California |
| 2019 Honda HR-V EX-L | $269 | 36 | $2,899 | $26,365 | $350 | National |
| 2019 Kia Sportage LX AWD | $199 | 36 | $3,499 | $26,295 | $296 | CA & Select States |
| 2019 Hyundai Ioniq Plug-In Hybrid Base | $279 | 36 | $2,199 | $26,270 | $340 | Los Angeles |
| 2019 Volkswagen Passat 2.0T Wolfsburg with Automatic (Sign & Drive) | $319 | 39 | $0 | $26,190 | $319 | CA, AZ, NV, OR, AK |
| 2019 Honda HR-V EX AWD | $259 | 36 | $2,899 | $26,165 | $340 | National |
| 2019 Mitsubishi Outlander 2.4 ES | $299 | 48 | $2,848 | $25,825 | $358 | National |
| 2019 Ford Fusion SE 1.5T with Co-Pilot360 (Select Stock) | $259 | 36 | $2,709 | $25,670 | $334 | California |
| 2019 Nissan Rogue Sport S AWD | $209 | 36 | $3,599 | $25,655 | $309 | Los Angeles |
| 2019 Buick Encore Preferred 1SB (Incl. $2,000 Bonus For Non-GM Lessees) | $199 | 39 | $2,239 | $25,595 | $256 | California |
| 2019 Buick Encore Preferred 1SB | $199 | 39 | $4,239 | $25,595 | $308 | California |
| 2019 Honda Civic 1.5T EX-L Sedan | $239 | 36 | $2,899 | $25,520 | $320 | Southern California |
| 2019 Mitsubishi Eclipse Cross 1.5T ES AWD | $269 | 36 | $3,543 | $25,475 | $367 | National |
| 2019 Ford EcoSport SE 200A w/Conv. Pkg (Select Stock) | $219 | 36 | $2,719 | $25,440 | $295 | California |
| 2019 Mazda CX-5 Sport | $235 | 36 | $2,489 | $25,395 | $304 | Los Angeles |
| 2019 Honda CR-V LX | $249 | 36 | $2,399 | $25,395 | $316 | National |
| 2019 Volkswagen Tiguan 2.0T S (Sign & Drive) | $269 | 39 | $0 | $25,290 | $269 | AZ, CA, HI, NV |
| 2018 Ford EcoSport SE 200A w/Conv. Pkg (Select Stock) | $199 | 36 | $2,699 | $25,290 | $274 | California |
| 2019 Toyota Camry LE | $249 | 36 | $1,999 | $25,270 | $305 | Southern California |
| 2019 Subaru Forester 2.5i Base | $255 | 36 | $2,055 | $25,270 | $312 | Los Angeles |
| 2019 Honda Civic Si Sedan | $229 | 36 | $2,399 | $25,220 | $296 | Southern California |
| 2019 Honda Civic Si Coupe | $229 | 36 | $2,399 | $25,220 | $296 | Southern California |
| 2019 Nissan Altima 2.5 S | $239 | 36 | $2,399 | $25,210 | $306 | Los Angeles |
| 2020 Kia Sportage LX | $219 | 36 | $3,499 | $25,035 | $316 | CA & Select States |
| 2019 Kia Niro LX | $209 | 36 | $2,999 | $24,895 | $292 | CA & Select States |
| 2019 Kia Sportage LX | $189 | 36 | $3,499 | $24,795 | $286 | CA & Select States |
| 2019 Honda HR-V EX | $249 | 36 | $2,599 | $24,765 | $321 | National |
| 2019 Mazda Mazda6 Sport with Automatic | $269 | 36 | $2,499 | $24,720 | $338 | Los Angeles |
| 2019 Toyota Prius L | $309 | 36 | $1,999 | $24,700 | $365 | Southern California |
| 2019 Honda Civic 1.5T EX Hatchback | $219 | 36 | $2,399 | $24,670 | $286 | Southern California |
| 2019 Honda Accord 1.5T LX | $249 | 36 | $2,399 | $24,640 | $316 | Socal & Select States |
| 2019 Mazda Mazda3 Base Hatchback with Automatic | $255 | 36 | $2,479 | $24,520 | $324 | Los Angeles |
| 2019 Honda Civic 1.5T EX Sedan | $229 | 36 | $2,499 | $24,320 | $298 | Southern California |
| 2019 Hyundai Tucson SE | $249 | 36 | $2,599 | $24,245 | $321 | Los Angeles |
| 2019 Honda Civic 1.5T EX Coupe | $219 | 36 | $2,699 | $24,120 | $294 | Southern California |
| 2019 Kia Optima LX | $189 | 36 | $2,999 | $23,915 | $272 | CA & Select States |
| 2018 Mazda Mazda6 Sport with Automatic | $215 | 36 | $2,499 | $23,895 | $284 | Los Angeles |
| 2019 Volkswagen Golf SportWagen S with Automatic (Sign & Drive) | $289 | 39 | $0 | $23,890 | $289 | CA, AZ, NV, OR, AK |
| 2020 Toyota Corolla Hybrid LE | $269 | 36 | $1,999 | $23,880 | $325 | Southern California |
| 2019 Volkswagen Golf S with Automatic (Sign & Drive) | $289 | 39 | $0 | $23,840 | $289 | CA, AZ, NV, OR, AK |
| 2019 Subaru Legacy 2.5i with CVT | $215 | 36 | $2,625 | $23,430 | $288 | Los Angeles |
| 2019 Hyundai Sonata 2.4L SE | $219 | 36 | $2,399 | $23,420 | $286 | Los Angeles |
| 2019 Hyundai Ioniq Hybrid Blue | $239 | 36 | $2,199 | $23,320 | $300 | Los Angeles |
| 2019 Mitsubishi Outlander Sport 2.0 ES | $274 | 39 | $3,048 | $23,275 | $352 | National |
| 2019 Honda HR-V Sport | $229 | 36 | $2,499 | $23,265 | $298 | National |
| 2019 Chevrolet Trax LT (National) | $199 | 39 | $3,709 | $23,200 | $294 | National |
| 2019 Honda Civic 2.0 Sport Coupe | $209 | 36 | $2,699 | $23,170 | $284 | Southern California |
| 2019 Honda HR-V LX AWD | $209 | 36 | $3,099 | $22,965 | $295 | National |
| 2020 Toyota Corolla SE with CVT | $219 | 36 | $1,999 | $22,880 | $275 | Southern California |
| 2019 Honda Civic 2.0 Sport Sedan | $209 | 36 | $2,499 | $22,870 | $278 | Southern California |
| 2019 Subaru Crosstrek 2.0i with Manual | $235 | 36 | $1,989 | $22,870 | $290 | Los Angeles |
| 2019 Hyundai Kona SEL | $229 | 36 | $2,399 | $22,845 | $296 | Los Angeles |
| 2019 Honda Fit EX-L with Navigation, CVT | $229 | 36 | $2,799 | $22,440 | $307 | National |
| 2019 Honda Civic 1.5T LX Hatchback | $199 | 36 | $2,199 | $22,370 | $260 | Southern California |
| 2019 Toyota Corolla Hatchback SE | $219 | 36 | $1,999 | $22,364 | $275 | Southern California |
| 2019 Toyota C-HR LE | $219 | 36 | $1,999 | $22,090 | $275 | Southern California |
| 2019 Mazda Mazda3 Base Sedan with Automatic | $215 | 36 | $2,479 | $21,920 | $284 | Los Angeles |
| 2019 Nissan Kicks SV with Two-Tone Roof | $285 | 36 | $1,999 | $21,880 | $341 | Los Angeles |
| 2019 Toyota Corolla LE | $199 | 36 | $1,999 | $21,809 | $255 | Southern California |
| 2019 Volkswagen Beetle S 2.0T Coupe | $279 | 39 | $2,999 | $21,790 | $356 | CA, AZ, NV, OR, AK |
| 2019 Honda Civic 2.0 LX Coupe | $189 | 36 | $2,199 | $21,570 | $250 | Southern California |
| 2019 Honda HR-V LX | $209 | 36 | $2,399 | $21,565 | $276 | National |
| 2019 Honda Fit EX-L with CVT | $219 | 36 | $2,499 | $21,440 | $288 | National |
| 2019 Mazda CX-3 Sport | $205 | 36 | $2,499 | $21,435 | $274 | Los Angeles |
| 2019 Hyundai Elantra GT Base Automatic | $199 | 36 | $2,699 | $21,370 | $274 | Los Angeles |
| 2020 Kia Soul S with CVT | $239 | 36 | $1,999 | $21,285 | $295 | CA & Select States |
| 2019 Kia Forte S | $179 | 36 | $2,499 | $21,215 | $248 | CA & Select States |
| 2019 Honda Civic 2.0 LX Sedan | $189 | 36 | $2,199 | $21,170 | $250 | Southern California |
| 2020 Toyota Corolla LE with CVT | $209 | 36 | $1,999 | $20,880 | $265 | Southern California |
| 2019 Nissan Sentra SV with CVT | $149 | 36 | $3,999 | $20,495 | $260 | Los Angeles |
| 2019 Volkswagen Jetta 1.4T S with Automatic (Sign & Drive) | $259 | 39 | $0 | $20,440 | $259 | CA, AZ, NV, OR, AK |