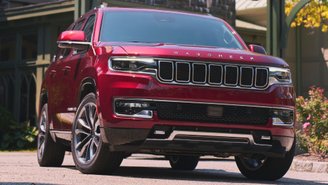 If you're looking to buy Jeep's newest SUV, there may be a good reason to wait. That's because the brand is planning to introduce a cheaper version of the 2022 Wagoneer at a later date. Based on the company's initial pricing announcement, it'll be $10,000 less expensive than the cheapest version you can buy today.
When Wagoneer pricing was first announced, Jeep said the entry-level Series I would have an MSRP of $59,995 including destination. However, the SUV the brand introduced first was the Series II at $69,995. The company said that the lower-cost Wagoneer Series I would have "late availability" with no official release date.
For those looking to spend the least money possible, the Series I could be worth the wait. Based on what Jeep has already disclosed, the Wagoneer Series I will come well-equipped with 20-inch wheels, LED headlamps, a 10.1" digital display, and the same 392-horsepower V8 you'll find under the hood of other Wagoneers.
Sadly, a recent $850 price increase has resulted in an even higher MSRP for both the Wagoneer and Grand Wagoneer. Although we don't yet know if the Series I is affected, we think there's a good chance that it is. While we know Wagoneer residual values are pretty good, we don't yet have such info for the new Series I.
With the new 3-row Grand Cherokee L already available for sale at dealers nationwide, and an all-new 2-row Grand Cherokee due later this year, SUV buyers may have some good alternatives to consider. However, those looking for a full-sized SUV costing $10,000 less than the current Wagoneer may find it worth the wait.