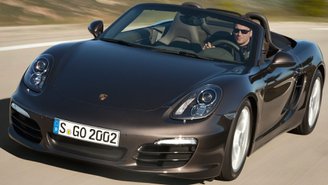 The cutthroat world of car sales can involve significant discounts when switch brands. Known as conquest cash incentives, these discounts can get you out of a lease quicker and save you as much as $4,500 in the process. Here's a look at some of this month's most notable deals.
Porsche. Although the German luxury automaker doesn't advertise rebates, the Welcome To Porsche Program up to a $4,500 discount when coming from a competitive brand's lease.
The discount comes in the form of a special type of credit worth up to $1,500/month to help get you out of a current lease. Porsche is offering up to 3 of these credits for $4,500 in savings.
Acura. If you're coming from a competitor, you may be able to score a killer deal on an Acura. The best discount is a $2,500 conquest cash incentive on the recently redesigned 2021 TLX.
The best part is that you may be able to stack the offer with 0% APR financing for 60 months as of earlier this month. That makes this the best deal we've seen to date on the all-new sedan.
Ford. If you're planning to trade-in your existing car, you may be eligible for as much as a $3,250 bonus on the full-sized Expedition SUV. You can even combine the offer for maximum savings.
For example, Ford Credit is offering 0% APR financing for 60 months plus a total of $4,500 in discounts on 2020 Expeditions. You won't see a deal like that on a Chevy Tahoe anytime soon.
Chevrolet. Through March 31, Chevy is offering up to a $1,250 conquest bonus on nearly every vehicle it sells. That's a $500 increase compared to a deal we reported on last month.
In the case of the 2020 Malibu, you can stack the $1,250 bonus with 0% APR for 84 months plus $2,500 in GM Down Payment Assistance. That's $3,750 off, with no interest for 7 years.