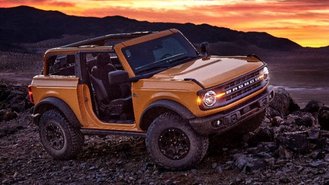 2022 Bronco price increases. Ford's popular Bronco SUV will be quite a bit more expensive to buy for its second year on the market. In some cases, we identified price increases of up to $800 for 2022.
Ford unable to fill 2021 orders. In somewhat of a reversal, Ford is telling dealers that it won't be able to fulfill orders for 2021 vehicles. As a result, consumers may find themselves getting a 2022 Ford at a discount.
2022 Jeep Gladiator price increase. Data from the latest order guide indicates the Gladiator can be up to $2,020 more expensive than the previous year but offer some additional features as well.
Ford converting Mach-E orders. Facing continued production delays related to the chip shortage, Ford is now automatically converting vehicle orders for the 2021 Mustang Mach-E to ones for the 2022 model year.
2022 Mach-E pricing & deals. In addition to featuring the exact same price as the current Mach-E, our analysis finds that the newest version will offer many of the same manufacturer incentives.
Maverick guaranteed approval program. A special program from Ford Credit on the all-new Maverick pickup could make getting approved for financing a lot easier for those with bad credit.
Ghibli price increase. The cost to bring home Maserati's cheapest model is going up by over $4,000 because the base model has been discontinued.
The "Most American" cars are expensive. Vehicles recently awarded the honor of being the "most American" happen to be extremely pricey and excluded from thousands of dollars in incentives.
First Cadillac Blackwing leases. If you've been waiting for the highly-anticipated CT4 and CT5 V-Series Blackwing models to arrive, the cost to lease one could be exceedingly expensive this fall.
2022 BMW M3 lease cheaper than 2021 model. Although newer vehicles are typically more expensive, BMW's iconic 4-door performance car could be a better deal if you choose the newest version.
Civic hatchback leases $2 more than sedan. Even though the redesigned Civic hatchback is pricier than the sedan, better residual values can make it just a few dollars more expensive to lease.
Mach-E website pricing error. A bug on Ford's website has resulted in an estimated Mach-E payment that's over $100/month more expensive than it really is.
Ford offering discounts for test drives. Attending your local auto show could translate to a discount worth hundreds of dollars if you plan to test-drive and buy a new Ford car, truck, or SUV.
MX-30 is Mazda's cheapest model to lease. The latest incentives from Mazda have revealed that the all-electric MX-30 crossover may actually be the brand's cheapest vehicle to lease.