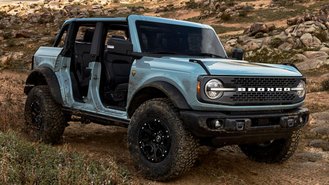 Bourbon for Bronco buyers. Ford is giving dealers money to keep customers with Bronco delays happy. In a bizarre development, the company suggests that dealers consider spending the money on bourbon and other gifts to placate buyers.
Dim outlook for new car sales. A recent report suggests that new car inventory may not improve anytime soon. Things may actually be getting worse, a problem that will most likely continue to frustrate consumers dealing with high car prices.
Wagoneer price increases. Jeep's priciest vehicles just got a little more expensive to buy ahead of the fall car sale season. That's because Jeep has quietly raised sticker prices for both the 2022 Wagoneer and Grand Wagoneer full-sized SUVs.
Hyundai Accent drops manual. Hyundai's cheapest car may cost a little more this fall now that the manual transmission option has been discontinued. New car shoppers may have fewer stickshift options than ever before come this fall.
Jeep Wagoneer residual values. There's a chance that the new Wagoneer could be a surprisingly good SUV to lease based on an in-depth look at residual values that manage to be better than the Cadillac Escalade.
Cheapest truck leases. The Ford Maverick ties with the Toyota Tacoma for the cheapest lease on a truck in September. However, high prices due to an inventory shortage could result in shoppers paying considerably more for their trucks.
GM hurricane assistance. The devastating impacts of Hurricane Ida have compelled the American automaker to offer financial assistance worth up to $1,000 for those affected. In most cases, the discount can be combined with other offers.
2022 Encore GX 1.2T engine availability. Buick's most popular SUV won't be available with its least-expensive engine option. Due to the global semiconductor shortage, this could result in luxury car buyers spending a lot more money.
Sorento PHEV pricing. Although Kia's newest plug-in model may look expensive, but a closer look finds that the Sorento Plug-In Hybrid may actually be cheaper to buy than a regular Sorento when factoring in over $9,900 in potential savings.
Cities with the cheapest used cars. Even though used car prices are high across much of the United States, recent data indicates that buyers in a handful of cities are paying considerably less money for their preowned cars & trucks.