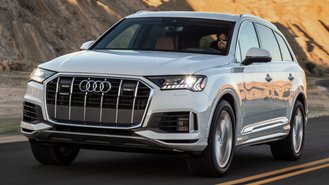 CarsDirect's findings over the past week were largely oriented around bad news. In addition to lousy Audi lease deals, price increases from Kia, and a horribly expensive lease on the 2021 Buick Envision, we found that high residual values on the new Mustang Mach-E may not offset Ford's handling of an EV tax credit.
2021 Buick Envision lease. Buick's newest SUV can be awfully expensive to lease. Based on our analysis, the 2021 Envision can actually cost shoppers more money to lease than an Enclave despite an over $6,000 difference in MSRP. That could give buyers a good reason to wait rather than buy now. Read More »
$199 Niro leases. It's not often that you can choose between a hybrid or plug-in for a lease payment of just $199, but that's exactly what Kia is offering on the Niro, Niro Plug-In Hybrid, and Niro EV. In some cases, local plug-in rebates can make these extremely good bargains for eco-conscious buyers. Learn More »
Mach-E residual values. Ford's all-new Mustang Mach-E has way better lease residual values than a traditional EV. Surprisingly, our analysis finds that it'll even have a higher residual than a gas-powered Mustang. However, there could be some downsides that will affect your decision to buy or lease. Full Coverage »
Audi lease prices. Bringing home an Audi could be a lot more expensive than you think if you're planning to lease. In fact, post-holiday changes can make some models over $100/month more expensive to lease. Find out why you may want to wait if you're shopping for a luxury car at the start of the year. Learn More »
Kia price increases. Some of Kia's most popular models just got a little more expensive following a round of price increases and a higher destination charge. The biggest price hike is a $355 bump on the 2021 Telluride, with newer models like the sporty K5 and value-packed Seltos affected, too. Full Analysis »
Honda Fit deals. Even though this will be the final year for the Fit, your chances of getting a great deal on the discontinued hatchback could be extraordinarily slim. While it remains one of the cheapest cars you can lease, the car's competitors continue to offer far better rebates and financing rates. Read More »
Most offers end on February 1, 2021.