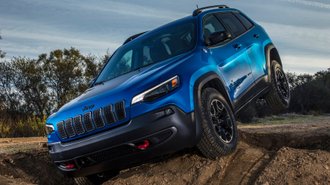 As we approach the end of June, new car incentives continue to offer opportunities to save. Brands like Jeep have even brought back 0% APR for 72 months in the second half of the month on the 2020 Cherokee. That can equate to as much as $2,800 in money saved in interest costs alone and now ranks as one of the best 4th of July deals on an SUV.
A lot of brands have raised rates, but there are some big exceptions. For example, Kia is one of the few remaining automakers still offering great 84-month rates as low as 1.9% APR. You can even get that rate on a 2020 Kia Stinger plus a cash incentive worth up to $1,500 simply for trading-in an existing car, truck, or SUV.
Mainstream vehicles aren't the only ones eligible for savings. For example, exceptional residual values can make the 2020 Honda Civic Si cheaper to lease than a Toyota Corolla despite a nearly $5,000 difference in MSRP. BMW is even offering low-interest financing and up to $5,750 off a number of its top-of-the-line M performance models.
Interestingly, there are hidden deals to be had this 4th of July if you know where to look. For example, the 2020 Acura TLX features over $10,000 in savings when you lease at non-promotional rates and qualify for a loyalty discount. Even the NSX supercar is eligible for an incredible $20,000 unadvertised dealer incentive for financing or leasing.
The most-anticipated debuts this summer include the likes of the 2021 Toyota Venza hybrid and the new Chevy Tahoe. However, we've learned that the Venza won't come with Toyota's newest safety system. Upcoming models like the 2021 Toyota Supra will offer up to an $8,000 price cut, creating a more affordable way to buy the sporty coupe.