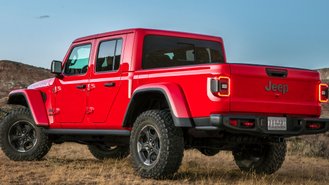 The week's news was full of developments as states and local governments grappled with the impacts of COVID-19. For our part, we conducted an in-depth look at what the coronavirus means for car buyers. Meanwhile, the Big Three in Detroit rolled out the most aggressive coronavirus assistance programs we've seen to date.
On Tuesday, GM introduced 0% financing for 84 months, but we found some important catches worth knowing about. The next day, Ford followed suit with a similar offer with even bigger limitations. Today, we also learned that FCA is offering the same great rate plus Employee Pricing on select models through March 31.
That said, a closer look revealed that the best deals leave behind buyers with bad credit.
One of the more positive developments this week was our finding that some dealers are discounting Jeep Gladiators by nearly $13,000 due to an apparent oversupply. At least that was until we learned that Chevy is raising the 2021 Colorado pickup's base price by as much as $4,000 for the coming year.
As we enter an extended period of disruption to daily life, dealers are adapting in anticipation of a drop in sales. However, the shutdown of some of the nation's auto plants is already having an impact. Shortly after learning that cheap 2020 Corvettes are virtually non-existent, Chevy stopped taking orders.
Those looking to buy an upcoming model should be aware that automakers are already pushing back spring launches due to the coronavirus. Finally, current owners looking for additional flexibility should be aware that lenders like Ford Credit and Hyundai Motor Finance are offering payment relief.