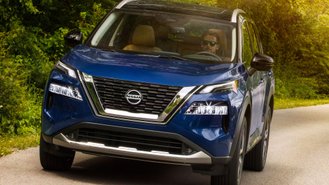 Update (4:15 pm): We've added info about the start date for a Mach-E incentive, a deal on the 2021 Ford F-150, and a $10,000 discount on the Jaguar F-TYPE.
Black Friday deals have started early, and our continuous coverage is already revealing deals like 0% APR for 84 months and complimentary lease payments. If you're a truck buyer, FCA is offering Employee Pricing on the full-size RAM 1500 pickup worth nearly $10,000 off MSRP when factoring every available discount.
In other news, Jaguar is sending people $10,000 discount coupons on the 2021 F-TYPE. Unbelievably, the deal can be combined with 0% financing for 6 years in what is undoubtedly an unprecedented offer. We've also learned that Ford is offering no payments until 2021 on the all-new F-150 before it even arrives at dealers.
Having said that, not every deal is a good one. For example, some Chevy discounts can actually be worth less than several months ago, and the brand is offering a $500 Cyber Cash coupon you can only get when providing personal information. With Veterans Day nearing, some brands are offering special military discounts.
November lease deals offer a great chance to upgrade. For example, the 2020 Hyundai Sonata can be cheaper to lease than a Toyota Corolla. Meanwhile, a price cut on the Cadillac XT4 can make it just a little more expensive to lease than a RAV4. Be sure to see our complete list of every lease to find the right deal for you.
With battleground states firmly in the headlines because of the 2020 election, we found can't miss deals in Arizona, Georgia, Michigan, and Pennsylvania that you may not see advertised. For example, GM is offering Costco members an ultra-cheap lease on the 2020 Chevy Silverado with an effective cost of $226/month.
Upcoming vehicles may be exciting, but they can also be surprisingly expensive. For example, 2021 Nissan Rogue leases can actually be $5/month more expensive than the Murano despite a huge difference in MSRP. In contrast, Lexus is already offering 0% APR on the 2021 IS despite the fact that it's an all-new redesign.
If you're looking to lease a Mach-E, the closest thing will start November 23 at dealers across the country. Called Ford Options, the deal involves lower payments than what you'd find on a typical financing contract. However, our analysis finds that consumers will be responsible for figuring out if they'll qualify for a $7,500 tax credit.
Leases can be great in terms of affordability, but may not make sense for everyone, especially if you have subprime credit. If you're looking to buy a car with bad credit, there's a good chance that a down payment will be required. CarsDirect's network of dealers is specially equipped to help those with subprime credit.
Most offers end on November 30.