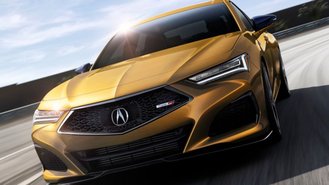 October brings a flurry of changes for those looking to buy or lease a car. Ford will introduce the all-new 2021 F-150 with as much as a $3,000 discount as well as special rates. That said, leasing the redesigned truck could be a bad deal. In other news, the 2021 Acura TLX already offers up to $2,900 in savings and lease deals.
Most brands have ended assistance programs related to COVID-19. However, Jeep is now offering 3 years of free maintenance. Eligibility extends to the entire 2021 lineup. Previously, only select models qualified. Buying a newer Jeep could be a compelling alternative to upcoming competitors like the 2021 Ford Bronco.
Meanwhile, a roughly 3-month-long buyback program called Ford Promise now excludes new vehicles. Even though the brand is still offering the option to return a car, truck, or SUV in case of job loss, the offer now focuses solely on used vehicles. This could make choosing a new Ford slightly less attractive this fall.
Great deals abound on cheap cars, with 0% APR financing for 72 months on the 2020 Nissan Kicks. Interestingly, we also learned that the upcoming Ford Mustang Mach-E will be up to $3,000 cheaper than originally announced following a major price cut. That said, plug-in incentives can make the Mach-E an even better deal.
Those looking for efficiency will find higher lease prices this month on the Toyota RAV4 Prime. Following a hike in payment, the new plug-in hybrid can be as much as $140 (per month!) more expensive than a regular RAV4. In other news, now could be your last chance to buy a Honda Civic Si before a nearly 1-year hiatus.
If you're looking for deals in New York, CarsDirect analyst Kelly Campbell has compiled a list of can't-miss deals. For example, the 2020 Mazda CX-3 can be leased from as little as $164/month. We're analyzing offers to find the best lease deals and are putting together a full list of every lease in other parts of the country.
In terms of upcoming models, Genesis previewed a new small SUV called the GV70. The updated 2021 Honda Odyssey received the highest industry safety award. And Ford is amassing reservations for the reborn Bronco. We also learned that the all-new 2021 Buick Envision can be about as fuel-efficient as the smaller Encore.
Stay tuned for CarsDirect's ongoing coverage of the latest incentives that can save consumers money. Our nationwide network of car dealers is also equipped to help shoppers get financed even with bad credit. You can start the process in as little as 30 seconds with some basic information to find a dealer near you today.