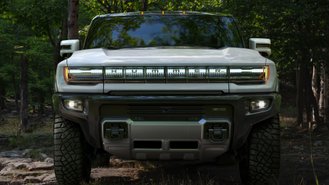 This week revealed some surprising developments that will affect car buyers. In addition to learning that some of the most anticipated redesigns will be more affordable than we expected, we learned about haggle-free pricing on the new Hummer, a free Thule rack deal from Honda, and news about the F-150 Raptor.
Haggle-free Hummer. GMC is reportedly planning to offer haggle-free pricing on the 2022 Hummer EV to prevent dealer mark-ups. However, our analysis finds that there could be some pros & cons. In addition, a closer look reveals that the reimagined 350-mile EV won't qualify for nearly $10,000 in plug-in incentives.
2021 Escalade leases. The redesigned Cadillac Escalade can potentially be as little as $10/month more expensive to lease than the outgoing SUV. Redesigns often entail price increases, so this could be good news for luxury SUV shoppers. 2020 Escalades currently offer one of the largest rebates on any vehicle.
Discounts before redesigns. Looking to save serious money? CarsDirect analyst Kelly Campbell found 3 models on deep discount before a redesign. For example, the 2020 Chevy Suburban offers as much as $6,250 off MSRP. To put that into perspective, the 2021 Suburban has no standard rebates to speak of.
Mazda3 turbo fuel economy. Power typically comes at the cost of fuel economy. However, the 2021 Mazda3 Turbo gets just 1 mpg less than the non-turbo model. This could make for a strong case for the sporty small car, although a relatively high price tag of over $30,000 may deter some buyers.
2021 Raptor Super Cab. Contrary to early reports, recent documents from Ford suggest that the next-gen F-150 Raptor truck will continue to be available in both Super Cab and Super Crew styles. The development could help reassure truck enthusiasts considering rumors claimed the Super Cab would be discontinued.
Honda Odyssey Thule rack offer. Yesterday, Honda introduced a new loyalty bonus on the Odyssey minivan worth $750 toward the purchase of Thule accessories. The coupon can be combined with a $1,000 loyalty discount and low-interest financing on the recently-updated 2021 Odyssey.
No more Tesla returns. If you're planning to buy a new Tesla, you should know that the EV maker recently took away its 7-day return policy. Considering the fact that vehicles like the Model 3 have seen a variety of quality issues, some consumers may see one fewer incentive to buy a Tesla sight-unseen.
Be sure to stay tuned for CarsDirect's ongoing coverage of the best car deals and incentives that can save you money. Our network of new & used car dealers can help you get financed, even with bad credit. Choosing the right lender can be challenging, especially if you've been turned down for a loan.