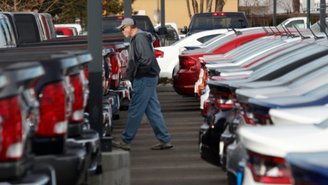 You're in the market for a used car this month, but you don't have a whole lot to spend. What are your options for under $10,000? Well, you can go for an older-model vehicle that was pricer to start with, but you'll be getting something with much higher mileage. The best used cars for those on a tight budget are vehicles that were value-priced to begin with, allowing you the luxury of lower mileage and less wear and tear. But not all cars and trucks hold up equally well. Here's our top 5 choices for cars that have a nice combination of low price on the used car market and good enough reliability to help ensure a trouble-free ownership experience.
See 2007 - 2009 Toyota Corolla's near you >>
Price New in 2008 (Base Model): $14,405
If you want to make that $10k count and don't want a whole lot of headaches down the road, modern Corollas are about as reliable as they come. The Toyota's outstanding build quality and long-term durability from bumper to bumper make it an excellent choice for a used car, but just know that due to this same reputation, you'll have to consider cars with slightly higher mileage and a couple model years older than you might be used to. At this price point, you're looking for a car with relatively low miles relative to year, but more than anything one that doesn't leak fluids and is in overall great shape.
See 2007 – 2009 Honda Civic's near you >>
Price New in 2008 (Base Model): $14,810
Priced about the same on the used car market as the Corolla, the Civic can be just as reliable and is more exciting to drive and own. You'll have to take special care, though, when buying a Civic. Many owners are known to run them into the ground without taking the proper care that will ensure good vehicle life. Look for a car without aftermarket wheels or any modifications whatsoever, inspect it carefully, and place condition higher than overall mileage. These cars are built to last.
See 2011 – 2012 Nissan Versa's near you >>
Price New in 2011 (Base Model): $12,480
The Nissan Versa is a great little car – basic, no-frills transportation with a roomy backseat for the class and competitive features, and thanks to a low base price, able to be had at under $10k without opting for a much older model. During these model years the Versa also came in a useful hatchback configuration if you're so inclined. The sedan model was the cheapest car in the U.S. at the time, and there will be plenty of selection on the used car market, as Nissan sold a bundle of them.
See 2011 – 2013 Hyundai Accent/Kia Rio's near you >>

Price New in 2012 (Base Model): $12,545
Though the Hyundai Accent and Kia Rio, which are mechanical twins underneath, might be a little more pedestrian than the cars you were looking at, if you only have $10k to spend one could be a great choice. Since these vehicles had lower base prices to start with and don't hold their value quite as well, you'll be able to find one a couple of model years newer for your money. That means less mileage stacked up, and hopefully, a more trouble-free ownership experience.
See 2007 – 2008 Chevrolet Silverado 1500's near you >>
Price New in 2007 (Base Model): $17,860
Did you know that Chevrolet's full-size trucks actually have some of the best long-term reliability of any vehicles on the road, even slightly better than the Ford F-150? Since you'll again need to be going for a slightly older model here with a bit higher mileage, make sure to have a mechanic perform a full inspection if you aren't able to do so yourself. Well taken care of, these Chevy trucks are known to last for multiple owners, and hundreds of thousands of miles.