Although large car sales have largely remained in the dumps, that isn't stopping Toyota from preparing the release of a completely redesigned Avalon this spring. That spells good news for bargain hunters looking to score a deal.
This month, we're seeing nearly a 43% increase in Avalon discounts in some parts of the country. Because of how offers are set up, you may find a scenario in which the car ends up being cheaper to buy than a Camry.
Here's what you need to know.
Spike In Discounts
Starting this month, Toyota is offering rebates worth up to $5,000 in some parts of the country on the 2018 Avalon and Avalon Hybrid. So far, we're seeing the deal in Southern California, Cincinnati, Denver and Portland.
Here in Los Angeles, that equates to a 42.9% increase over last month's $3,500 rebate.
On an entry-level Avalon XLE with an MSRP of $34,395, this equates to a 14.5% discount before additional savings from dealers. The car ranks as one of the best deals in March.
That said, the Avalon may not be such a great deal for all shoppers.
In many parts of the country, Toyota is heavily stacking incentives in favor of those looking to buy. Here in Los Angeles, where leasing is ubiquitous, the Avalon actually has no lease cash incentives whatsoever.
Sure, there may be a financing promo of 0% APR for 72 months, but you have to give up the rebate in order to get it. Shoppers may be better off taking the rebate and financing independently.
For illustrative purposes, an Avalon XLE priced at MSRP would have a total cost of $34,395 with the 0% promo. On a 5-year loan at 3%, the cost with the rebate falls to $31,691.
Camry shoppers could find the Avalon to be a smart upgrade. Here's why.
More Car For The Money
Even though it's been on sale for a little over 8 months, the 2018 Camry still features no rebates whatsoever. Although the car does benefit from strong lease incentives, there are no real deals for those looking to buy.
On paper, the Avalon XLE ends up just $50 more expensive than a 4-cylinder Camry XLE because of this month's rebate. That's based on an MSRP of $29,345 for the Camry and a price of $29,395 for the Avalon after the rebate.
In the below example from Toyota of Pasadena, the Avalon is actually being listed $1,600 lower than the Camry. That's quite an upgrade that you can get simply by walking across the dealer's lot.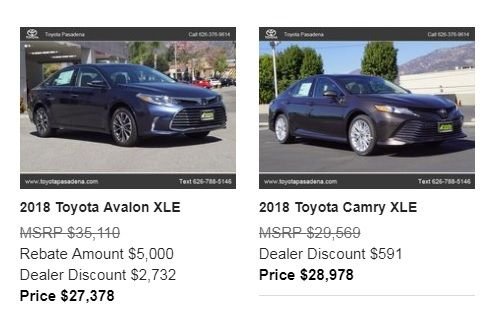 In addition to offering more room for passengers and cargo, the Avalon has a more powerful engine, a plush ride and a well-appointed interior. Like the Camry, it also comes with advanced features like automatic emergency braking at no extra charge.