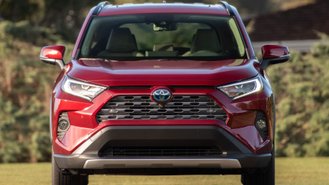 Toyota now has the lowest inventory of any major brand, according to a recent report. In addition to a shortage of vehicles, our analysis finds that incentives for buying & leasing continue to be outpaced by competitors facing similar issues related to COVID-19. These factors can have a significant effect on affordability.
According to Cox Automotive, Toyota has an average of just 39 days' worth of supply at dealers, well below the industry average of 70 days. That's even worse than Subaru (41 days), long known for having some of the most conservative discounts. However, incentives from Subaru have actually been far more aggressive.
For example, Subaru has been offering 0% APR for 63 months for almost 4 months now on most models. Even Mazda (57 days' supply) is still offering 0% on every vehicle plus deferred payments for 90 days. Meanwhile, the 2020 RAV4 currently features a choice between 1.9% financing for 60 months or a $1,000 rebate.
Interestingly, Lexus is still offering 0% APR on loans of up to 60 months across its lineup despite having the lowest inventory of any luxury brand (44 days). As a result, some shoppers could find themselves in an odd situation in which a $40,000 Lexus NX ends up being about $2,000 cheaper than a similarly-priced RAV4.
Unfortunately, in-demand models like the RAV4 Hybrid feature higher rates this month. Here in Southern California, last month's short-lived 0% promo on hybrids is gone and the 60-month rate has risen to 1.9%. Meanwhile, newer vehicles like the 2020 Ford Escape Hybrid already feature 0% APR for up to 72 months.
With many brands facing lower inventory levels due to the impacts of COVID-19 on production, popular vehicles may be hard to find. Although Toyota has never really offered the deepest discounts, the brand appears to be taking a cautious approach that may have an adverse impact on those looking to buy right now.
Current offers end August 3.
Update: A Toyota spokesperson reached out to us to clarify that, while it's possible for an NX to be cheaper than a RAV4 based on the above scenario, actual transaction prices for these vehicles were over $7,800 different based on the company's data for the gas variants in the month of June.