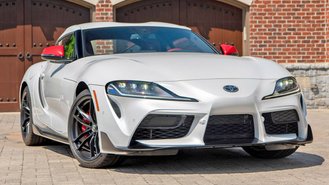 While most automakers are primarily focused on helping consumers amidst COVID-19, Toyota is giving dealership employees a $5,000 reason to buy the 2020 Supra. According to a bulletin sent yesterday to dealers here in Southern California, the deal is aimed squarely at dealer employees instead of the average buyer.
Unlike a traditional dealer cash incentive that can be passed along to customers, the offer in question is treated as purchase assistance for dealer associates. No other Toyota benefits from such a large employee discount, and the offer is worth more than twice other Supra incentives that are available in May.
So why is Toyota paying dealers to buy its most expensive car?
The fact is that the Supra is a very expensive, limited production car. Last year's sales figures show the brand managed to sell just 2,884 Supras, making it the company's lowest-volume passenger car apart from the Mirai, which isn't sold outside California. For reference, over 304,000 Corollas were sold in the same period.
It's also worth noting that the Supra is due for an update later this year. The 2021 Supra V6 will gain a boost in output and Toyota plans to introduce a new 4-cylinder turbo with a heavily-rumored lower price tag. Interestingly, this isn't the first time that we've seen Toyota offer discounts on the Supra.
Back in March, the brand began offering dealers in most parts of the country a $1,000 dealer cash incentive to help lower prices for consumers. The offer was doubled in April to $2,000, although most car buyers may not have even noticed because Toyota still isn't advertising it like its other rebates & offers.
Supra prices start at $50,945 but can exceed $57,000 with options. But that's not the only obstacle. Our early analysis found that the car could be almost $150/month more expensive to lease than the BMW Z4 even though they share the same underlying platform and have nearly identical MSRPs.
Sadly, most dealership employees outside Socal likely won't find a $5,000 Supra discount waiting for them at work. We looked at bulletins for 19 different regions and were unable to find a reference to a similar deal elsewhere. That said, with Memorial Day around the corner, anything is possible.
Stay tuned for CarsDirect's special Memorial Day deal coverage in the weeks ahead.
Current offers end June 1.