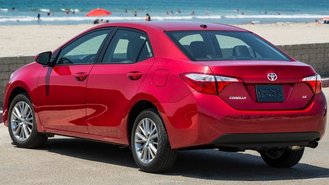 Leasing has become a popular way to get behind the wheel of a new Toyota. Apart from offering fuel-efficient vehicles with impressive safety technology, the brand offers some notable advantages for those looking to lease.
Here's a look at some benefits to leasing a Toyota in 2018.
Benefits of Leasing a Toyota
Toyota is one of the few remaining brands that offers complimentary maintenance. The program involves routine maintenance coverage for 2 years or 25,000 miles, whichever comes first.
Covered items include basic services like oil changes, tire rotations, and multi-point vehicle inspections. This is a value-added benefit on top of a vehicle's regular warranty.
Toyota includes 2 years of free roadside assistance with every new vehicle. You'll be able to request help with flat tires, lockout protection, emergency fuel and more.
In addition to having a toll-free number to submit requests, Toyota also offers a smartphone app that can be used to locate a service center or submit requests for assistance.
If you're planning on financing or leasing another Toyota, lessees may be eligible to have the $350 Disposition Fee waived that's normally charged at lease end. The offer is available once you're within 30 days of having to turn-in your vehicle.
Most Toyotas are advertised with a standard allowance of 12,000 miles per year. In contrast, competitors like GM and Ford routinely use a less-favorable 10,000 mile or 10,500 mile per year limit.
Think you'll need more than that? Your dealer will be able to quote you a lease price with a different mileage limit, often for less than what you'd have to pay for overages at the end of your lease.
Discounts for College Grads and Military
If you graduated in the last 2 years (or will within the next 6 months), you may qualify for a $750 College Grad Rebate on most models. Or, a $500 discount is available to members of the military.
In the case of the military offer, the savings can actually be passed to anyone residing in the same household. That's a nice added benefit for military families looking to add or replace a vehicle.
Toyota often features outstanding incentives for leasing. In some cases, promotions may actually favor leasing over buying. Offers vary month to month, so be sure to check for the latest promotions. View Current Deals »