Those looking to buy a Toyota Mirai may be able to score an unbelievable deal this month in the San Francisco Bay Area. According to a bulletin sent to dealers, Toyota is offering an unusual dealer cash incentive worth as much as $15,000 to help lower prices. Under a narrow set circumstances that undoubtedly won't apply to everyone, our analysis finds the car now features over $42,000 in potential savings.
Unlike the usual incentives consumers are used to seeing, the offer in question is a manufacturer-to-dealer incentive dealers aren't obligated to pass along and can actually keep as profit. Interestingly, program rules state dealers can't make use of the incentive when consumers lease through Toyota Financial Services or take advantage of promotional financing. That could be a deal-breaker for some.
Having said that, a closer look reveals dealers have the ability to stack the incentive with a number of other offers. For example, Toyota is also offering a "Trailblazer Bonus" worth $7,500. Based on our analysis, the two offers can be combined when a consumer chooses to finance through Toyota Financial at non-promotional rates. Those eligible for the California Clean Vehicle Rebate can get an additional $5,000 in the form of a post-purchase check.
But that's not all.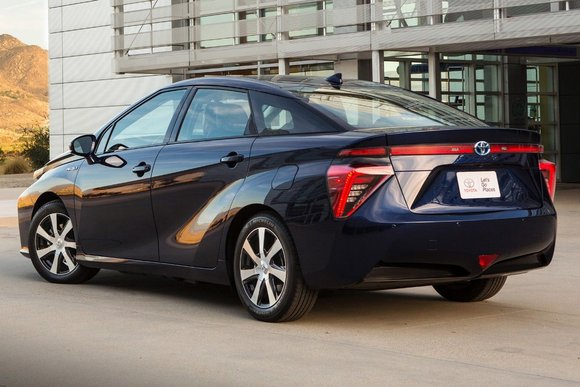 Toyota is also offering free fuel for 3 years, an incentive worth up to a maximum value of $15,000. Like most of its cars, Toyota also offers 3 years of free maintenance plus roadside assistance. For those keeping track, that's $42,500 in total potential value. When we reached out to Toyota, a spokesperson pointed out that the company's programs "are regional and flexible, allowing our regional sales offices to tailor incentives to their specific markets."
Just to put this all in perspective, the Mirai has an MSRP of $59,430 including destination. But don't get too excited just yet. Apart from the fact that none of this should be taken as a statement that Toyota dealers are offering a $42,000 discount on a $60,000 car, there's also the fact that you may not even be able to enjoy your newly-purchased vehicle because of a serious issue going on at refueling stations in the Bay Area.
According to Green Car Reports, nearly every hydrogen station around the Bay for passenger vehicles has been down since Monday. The outage has been attributed to an explosion at a facility owned by the primary hydrogen supplier for the region. As a result, drivers have been left unable to power a car claiming to offer a substantial refueling speed advantage over fully-electric cars like the Tesla Model 3.
Current offers from Toyota end July 8.