Toyota is launching the all-new Tundra with a financing deal, according to a bulletin sent to dealers. Curiously, our analysis finds that the new APR incentive is identical to that of the outgoing truck. Depending on offers available in the region in which you live, this could make the redesigned truck an even better deal.
Although you won't see it advertised yet on Toyota's website, 2022 Tundras already offer buyers 2.99% APR for 72 months. Opting for a 60-month loan offers a slight advantage in interest rate with 2.49% APR. The deal in question is for Northern California, but we could see similar incentives elsewhere soon.
Toyota's deal is available on all Tundras with a gas engine and excludes the highly-anticipated i-Force MAX hybrid. Still, a rate of 2.99% is identical to a rare year-end 2021 Tundra deal we reported on earlier this month. If you can avoid a 2022 Tundra markup, that could make the latest pickup more appealing.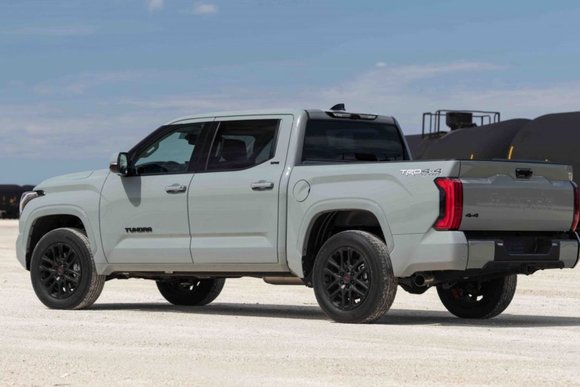 Normally, automakers heavily discount outgoing models before a redesign. However, a chip shortage has resulted in high prices and remains the biggest reason why Toyotas are so expensive. To make matters worse, the older truck has essentially sold out at dealers, dashing the hopes of those looking to time their purchase.
At this point, there are no 2022 Tundra rebates or any lease deals. That could change, but the first deals on the Tundra clearly offer an advantage to those looking to buy rather than lease. Meanwhile, Ford is offering a 2021 F-150 financing deal involving 0% APR for 60 months plus a $1,000 bonus before Black Friday.
While dealers are taking 2022 Tundra reservations, some shoppers could be in for a wait. For example, a major Toyota here in Southern California recently claimed that certain configurations already have up to a one-and-a-half-year waitlist. As a result, your results may vary if you're looking to bring one home for the holidays.
Current Toyota offers end on November 30th.
Update (11/24/21): We've confirmed that this offer is available in a number of other regions: Boston, Central Atlantic States, Chicago, Denver, Gulf States, Kansas City, Los Angeles, New York, and Portland.