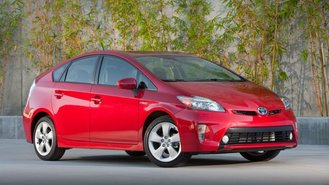 If you're shopping for a Toyota Prius, you might be in a bit of a tough spot. On one hand, low gas prices have prompted Toyota to release some of the best deals we've ever seen on the 2015 model. On the other hand, a new and improved version will be revealed later this year. If you live in Southern California, you might have a good option in June. The automaker is using an unusual $2,000 gas card offer on shorter 24-month leases to appeal to shoppers looking to upgrade not long after the new version goes on sale. Here's what you need to know.
Deal overview
This month's best Prius deal in Southern California is a $2,000 Visa Gas Card on 24-month leases of the 2015 model. Derivatives like the Prius c, Prius v, and Plug-in do not qualify for the extra incentive.
The good news is that this can be combined with $500 in lease discounts factored into existing lease offers. This month you can lease a Prius Two from $239 per month for 24 months with $1,999 due at signing.
That may be $20 more per month than the 36-month lease offer, but the $2,000 gas card catapults the offer into a realm of low effective cost we usually only see on highly subsidized electric vehicles.
Read the overview for the Toyota Prius>>
More ways to save
The offers don't end there. Current owners of any Prius family vehicle in Southern California are eligible for a $500 loyalty bonus. Toyota is also waiving up to the last 6 months of payments on all leases ending between June 2 and September 8.
Compare all Prius family models side by side>>
Our take
If you're a green car shopper in Socal and are looking to drive the Prius just long enough to upgrade to the new version not long after it arrives, we think this is an outstanding option. We haven't see this deal in any other regions, but we'll be keeping an eye out.
Get a custom lease quote on the Toyota Prius>>
Looking for the best way to keep track of purchase and lease deals? Check out our CarsDirect Pricing Insider and Deals Articles pages for tips and advice on picking the right time to buy or lease your favorite car or truck.
Incentives listed here assume a Southern California location and exclude tax, license, and dealer fees. Offers can be subject to change, so be sure to check with your CarsDirect Trusted Dealer to confirm eligibility.