It's possible to find used cars under $1,000, but cars in this price range tend to have extremely high mileage, and significant wear and tear. As a result, it may be a buyer-beware situation if you're looking for a running car in this low range.
Late 1990s to early 2000s vehicles pepper this price range when you're shopping. Cars in this price range typically don't qualify for financing, so you'll have to pay cash, and you might not get much car for your money.
You're going to find vehicles with well over 100,000 miles on them, and likely many with over 200,000 miles. Many of them found while researching online ads had reports of body damage, accidents, and even branded titles.
All cars in this price range come as-is with no warranty or guarantee on how long they'll last. Often cars like this don't run for long before you have to sink more money into them. A pre-purchase inspection is a must when you're shopping for a car under 1K.
For this price, you won't find any manufacturer-certified cars, which are newer and significantly more expensive. While there are often CPO car deals, used cars under $1,000 generally won't qualify for incentives you may sometimes find on certified cars.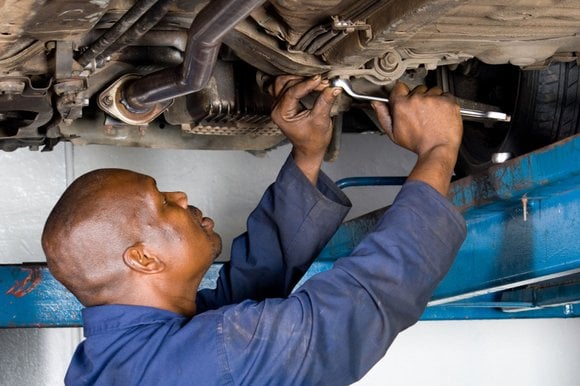 Issues you're likely to see in these older model vehicles tend to be serious, plentiful, or both. Beware of issues with the transmission and engine, and also watch for structural issues such as CV joints, ball joints, and tie rods going out in vehicles that have such high mileage. This can be especially true if the vehicle has all the original parts, has sat for a long time, or hasn't had any replacements in many years.
You can hit up public auctions to find abandoned vehicles for sale, or government auctions where you may find things like impound vehicles, used police vehicles, or other government fleet vehicles for sale. However, you're most likely to find cars under $1,000 through private sellers or independent auto dealerships, but the selection is usually extremely limited.
If you need a vehicle now and don't require much out of it, a used car under $1,000 could work for you. However, if you need something a little more substantial that can last you years, you may want to look for a vehicle in the $3,000 to $5,000 range. These are more likely to be found at dealerships, and in some cases, may even qualify for financing.
When you need a car in this price range, though, no financing deal or lease agreement can get you even close to $1,000, so shop smart, and don't skip the test drive.