When you're shopping with a $5,000 budget for your next vehicle, it could land you a decent used car if you temper your expectations. Five thousand dollars is a bit low for a used car these days, and the average going rate for a used car is around $30,000. So if you have a limited budget to work with you'll want to know where to go and what to look for.
What to Expect From A $5,000 Used Car
Inexpensive isn't always synonymous with "cheap." So, looking for something reliable (instead of fancy) in this price range should be your goal. According to Edmunds, though, the average price for a used car in the second quarter of 2023 was $29,472. And, according to AAA, most new vehicles have an average selling price of around $34,876.
With $5,000, you're going to be limited to older used vehicles. Some things you could expect from used vehicles under $5,000 include:
At least 100,000 miles or more
Likely some cosmetic damage
Some wear and tear on the interior
Around 10 years old or older
Chance of past accidents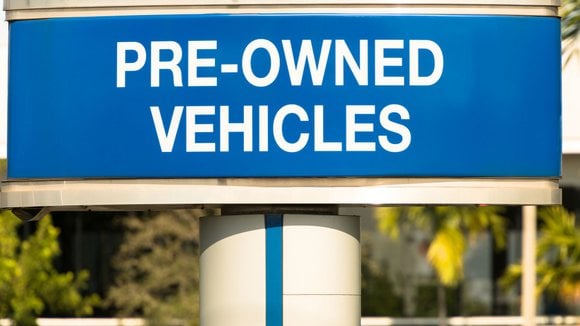 A used vehicle within this price range is likely to have been on the road for a while and could have had multiple owners. As far as where to get a car in this price range, an independent dealer or private-party seller may be a good bet.
If you finance, it could mean an affordable monthly payment and a smaller down payment. However, with a $5,000 budget, you may have to expect higher mileage vehicles, a higher risk of mechanical breakdowns, and possibly a high interest rate.
Shopping at a Dealership With $5,000
When you shop at a used car dealership with $5,000 in hand it may be wise to use that money as a down payment on your next vehicle, rather than the total cost of a used car. Typically, the minimum loan a used car lot will finance is $5,000. When shopping at a car lot you may not find a vehicle with a price tag as low as this, though. However, as you shop for lower-priced vehicles, you need to be careful that you're not looking at something unreliable.
While looking through used car lots, it's a good idea to avoid vehicles with:
Frame damage
Misaligned panels
Excessive rust
Damage on tire sidewalls
Any of the above issues could represent costly issues for you in the future. Ideally, you want to aim for a vehicle with a clean title and something with good bones that's going to last. Reliability is key while shopping for a used car, but that doesn't mean you have to settle for the first listing you see.
We recommend requesting a vehicle history report for the car you're interested in and don't be afraid to ask the dealer questions about its history. Additionally, a pre-purchase inspection is likely to be well worth your time and money.
While $5,000 may not be enough cash to get you behind the wheel of a luxury vehicle, it's likely enough to get you something decent if you shop smart.