Update as of 1/24/23: CarsDirect has confirmed that VinFast is offering a $3,000 discount on the VF8 to lessees in California.
Vietnamese automaker VinFast is looking to become the first Vietnamese automaker to sell a vehicle in the U.S. Despite being a brand-new automaker, VinFast is setting its sights on competing with Tesla and Chevrolet. Getting consumers to purchase a vehicle from a new automaker can be difficult, but VinFast plans to launch vehicle promotions to ensure its electric cars are priced competitively.
According to a report from Reuters, VinFast recently announced that it's thinking about offering some kind of promotion program to keep its vehicles priced similarly to competitors. VinFast didn't provide any concrete figures on what kind of promotions or discounts it would be offering.
"As a new brand entering the market, when other brands reduce their prices we have to come up with promotions to ensure VinFast's competitiveness," a VinFast spokesperson told the outlet. "We are considering many promotion programmes and will announce soon."
It sounds like VinFast is talking about being competitively priced to Teslas. Recently, Tesla drastically cut pricing for the Model Y, Model 3, and Model S Plaid. The Model 3 went from $46,990 to $43,990 (not including destination), while the Model Y went from $65,990 to $52,990. Pricing for the Model Y went down by $20% and pricing for the Model 3 fell by 6.4%. Tesla also cut $21,000 off the Model S Plaid, which now starts at $114,990.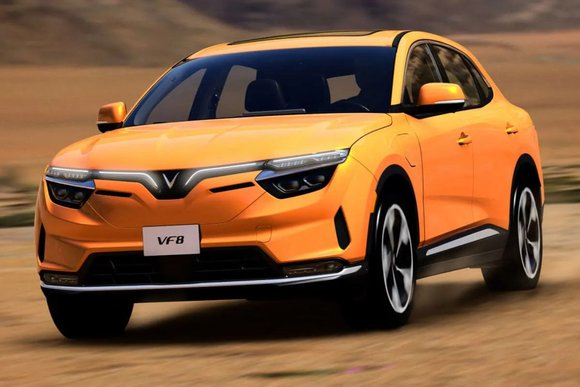 The two vehicles VinFast is looking to bring to the U.S. include the VF8 and VF9. The VF8 is a compact SUV and the VF9 is a midsize option. When the electric SUVs arrive in the U.S., they are expected to start at $59,000 for the VF8 and $83,000 for VF9. With these prices, the VF8 would be $6,010 more than the Model Y and the VF9 would be $26,990 cheaper than the Model X.
We know that the VinFast VF8 will come with all-wheel-drive and two electric motors. The base Eco model is expected to have 348 horsepower and 369 pound-feet of torque. The available Plus trim bumps power up to 402 hp and 457 lb-ft of torque. Range for the VF8 is expected to start at 248 miles and top out at 292 miles. The larger VF9 is expected to come with the 402-hp powertrain configuration as standard. The Standard Range battery pack will result in a range of 272 miles with the Enhanced Range battery bringing 369 miles of range.
Reuters claims that VinFast has already secured roughly 65,000 orders globally and has plans to sell 750,000 electric cars by 2026. The Vietnamese automaker shipped its first set of 999 electric vehicles to the U.S. last November and has plans to start delivering vehicles to customers before the end of this month, states the outlet.