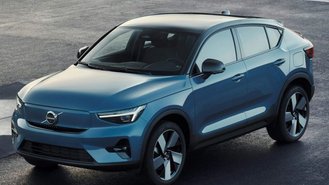 Volvo has abruptly slashed lease prices on its lineup of electric vehicles and plug-in hybrids. According to a bulletin sent by Volvo to its dealers today, a slew of vehicles benefits from a $7,500 lease incentive that has resulted in price cuts of up to $100/month. This could make it a great time to get a deal on a Volvo EV.
In the Northeast, the lease deal on the 2023 Volvo XC40 Recharge now starts at $674 for 36 months with $4,174 due at signing. That's based on an MSRP of $54,645 and 10,000 miles per year. Yesterday, the same SUV was listed at $774 with $4,274 at signing. That's a price cut of $100 a month in the span of a day.
Based on our analysis, the biggest difference is that the XC40 Recharge now features $7,500 in lease cash from Volvo Car Financial Services, the captive lender for Volvo. Previously, the amount was $1,500. As of today, we're seeing the same $7,500 incentive across Volvo's entire 2023 lineup of EVs and PHEVs.
The changes are staggering for consumers. After all, the Inflation Reduction Act rewards EVs built in North America, and models like the XC40 are assembled overseas. Volvo may be taking advantage of an apparent loophole that enables leased EVs to get an incentive called the Commercial Clean Vehicle Credit.
This could make it a great time to lease a Volvo EV. The downside is that we don't know if American legislators will move to close this loophole. For consumers, this marks an increasingly rare instance in which a manufacturer is passing along the full government tax credit to consumers rather than keeping it for itself.
As CarsDirect reported previously, Ford has kept the $7,500 tax credit for itself on leases for the Mustang Mach-E and F-150 Lightning. Similarly, Nissan keeps a huge portion of the incentive on leases for the LEAF EV. Even after a round of massive price cuts, Tesla lease prices don't seem to add up for consumers.
Current offers are set to expire on January 31st but could be renewed in February. We'll know for sure on February 1st when new Volvo deals are announced. Prices can vary by region but we're seeing the same $7,500 incentive so far in the Northeast as well as in the South when shoppers lease rather than buy.