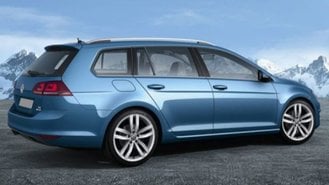 Volkswagen has been in hot water ever since it was revealed that the automaker manipulated emissions testing on its bestselling diesel models. Although various apologies and promises have pledged to make things right, current owners have been stuck wondering what the next step is. For October, VW unveiled a massive $2,000 loyalty discount to help retain current customers. But is it really a good deal? And where can shoppers expect to see the best deals? Here's what you need to know.
Deal overview
Through November 2, current owners and lessees are eligible for a $2,000 loyalty bonus toward any 2015 or 2016 non-TDI model (with the exception of the Touareg, which features a larger engine not affected by the emissions issue). This is a fourfold increase over last month's $500 loyalty offer which was limited to the Jetta, Passat, and GTI.
The offer doesn't require the trade-in of a current vehicle, just proof of ownership such as a current DMV registration form, lease contract or title. The deal can be combined with nearly all current incentives and can even be extended to others residing in the same household (a rare bonus for VW families).
VW Diesel Scandal: What You Need to Know>>
Why this is unusual
Although loyalty programs are nothing new, it's incredibly unusual to see such a large amount offered. Automakers generally keep this kind of incentive very modest at around $500. But if you think $2,000 is good, consider that Volkswagen uses unadvertised dealer cash incentives that can add up to as much as $6,000 in potential savings.
Learn more about dealer cash incentives>>
Where the deals are
The biggest discounts are on slower sellers like the Volkswagen CC, Eos, and Touareg, which feature dealer incentives worth up to $4,000. Even hot sellers like the 2015 Golf SportWagen get in on the action with incentives worth up to $750. Dealers use their own discretion to pass along the savings, but you can bet that now is the best time to negotiate a good price while the selection is still good.
Looking for a hidden deal? The 2015 Passat 1.8T Limited Edition isn't the cheapest Passat style, but a disproportionate amount of incentives compared to other Passats make it the best deal. This month, it has up to $2,750 in dealer cash discounts- $750 more than any other Passat. Prefer to lease? This month's deal is $179 per month for 36 months with $2,499 due at signing. Not impressed? We don't blame you, the effective monthly lease cost is about the same as a 2015 Honda Accord ($248 vs. $245).
But what the Accord doesn't have is the $2,000 loyalty discount. When applied to the amount due at signing, the Passat easily beats anything else in the segment with an effective lease cost as low as $193 per month. That's less than a Honda Civic or a Ford Fiesta ($205 and $209, respectively).
See this month's best lease deals>>
Our take
The scandal has undoubtedly been a huge setback for VW's efforts to improve their reputation. Unfortunately, diesel shoppers don't have a lot of options at the price points and levels of availability normally offered by VW. The scandal and subsequent stop-sale order came at the worst possible time when incentives were highest on the outgoing diesels.
However, for current VW lovers willing to accept that the gas models are appealing in their own right, this month's offers are quite exceptional. Shoppers able to combine both the loyalty incentive and this month's 2015 sell-down offers are in an outstanding position to save serious money.
See all of this month's best green car deals>>
For an easy way to find the best deals, visit the CarsDirect Deals Page for the latest deal-related news and analyses. Browse expert buying advice updated monthly on nearly 300 models for insider insights you'll only find at CarsDirect. Be sure to sign up for email alerts to have the latest deals delivered straight to your inbox.
Offers listed here are based on a resident in Southern California and may be subject to change. Most lease offers are for well-qualified buyers based on available credit and exclude tax, license, title, registration, document fees and insurance. Not all buyers may qualify. Please check with your CarsDirect Trusted Dealer to confirm details and eligibility.