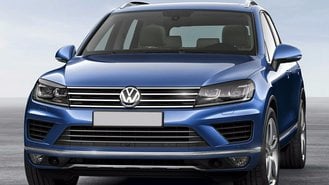 In an unusual mid-month change, Volkswagen has announced revised incentives for the 2015 Touareg. From March 12 to March 31, the Touareg gets a range of new offers like better finance terms, a lower lease payment, and unadvertised discounts.
Deal overview
As part of the changes, APR rates have improved to 0% for 48 months or 0.9% for 60 months. This is down from 1.9% early this month.
Lease shoppers will see lower payments on both gas and diesel models. A gas Touareg can now be leased for $499 for 36 months with $2,999 due at signing. This is a $60 drop in payment from earlier this month.
If you prefer the diesel model that gets up to 29 mpg, the TDI Touareg lease falls to $629 for 36 months with $2,999 at signing. This is down from $689 earlier this month.
Side-by-side: Touareg gas vs. Touareg TDI>>
Discounts you won't see advertised
A particularly impressive change is the addition of dealer cash that enables dealers to lower prices as much as $2,000. However, don't expect to see this advertised- dealers can choose to keep that money or pass it along to make their prices more competitive. This is the first time we've seen a dealer cash offer on the 2015 Touareg.
See all pricing and deals for the Touareg>>
Our take
Volkswagen is trying to make the Touareg more accessible to shoppers. Attractive lease deals have been working well so far for the automaker- the Tiguan had multiple lease improvements and saw a 23.5% jump in sales last month.
We doubt any of this will change the fact that the Touareg is a niche vehicle to most shoppers. However, if a high payment has been a barrier to purchase, we think this is an outstanding set of offers worth considering.
Get a price quote on a Touareg in your area>>
Be the first to know
Visit our CarsDirect Pricing Insider page for pricing and deal analyses for over 300 models. Sign up for email alerts to have our analyses delivered straight to your inbox. Browse our Deals Articles for insider info on the latest new car incentives that can save you money.
Advertised lease offers are for well-qualified buyers based on available credit and exclude tax, license, registration, and fees. Programs can be subject to change without notice. Be sure to check with your CarsDirect Trusted Dealer to confirm eligibility.