New car shoppers looking for a stylish alternative to a traditional midsize sedan will find late February to be a great time to buy a Volkswagen Arteon. According to a bulletin sent to dealers, the model is now eligible for an unadvertised discount worth up to $5,000. In some cases, the car can be almost as affordable as a Passat.
Last Friday, VW increased dealer cash incentives on all versions of the 2019 Arteon from $3,500 to $5,000. That's a 43% increase in savings compared to earlier this month and the largest discount we've seen to date. Alternatively, those looking to buy can choose 0% APR for 72 months (down from 0.9%) plus a $2,000 bonus.
Interestingly, shoppers looking for the best possible deal may find the Arteon to be a superior value than the Passat based on current offers. For example, a dealer in San Diego, California is advertising an $8,671 discount on an Arteon SE, driving down its $37,310 price tag to $28,639 (screenshot shown below).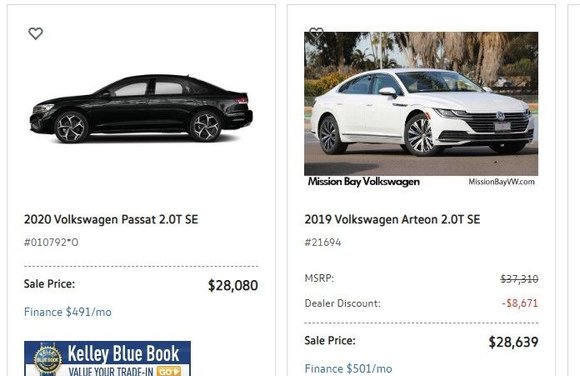 At that point, the car is just $559 more than a 2020 Passat SE from the same dealer. 2019 Passats sold out about a month ago in most parts of the country, resulting in disproportionately good deals on the Arteon. Passats were heavily updated for the 2020 model year and are eligible for just a $750 dealer cash incentive.
In terms of specs, Arteons come with a 2-liter turbocharged engine rated at 268 hp with 258 lb-ft of torque. That's a considerable step up from the 2-liter turbo in the new Passat that makes 174 hp and 206 lb-ft. If the Arteon was a tough sell because of its high price tag, those in the market to buy may be pleasantly surprised.
Having said all that, there are some important things to keep in mind.
First, Arteons are harder to find in stock compared to vehicles like the Tiguan and Atlas. It's also important to note that dealers aren't obligated to pass along dealer cash, so be sure to shop around. However, this is a model that debuted with a $2,500 incentive, and our analysis finds many dealers are offering deep discounts.