California is moving to ban the sale of gasoline cars by 2035 and require all new passenger cars to be emission-free. According to a statement today from Governor Gavin Newsom, the executive order aims to fight climate change by reducing greenhouse gas emissions by 35%. Although a lot can happen over the next 15 years, our analysis finds that today's EV market has significant obstacles when it comes to price.
If the ban was implemented today, consumers would experience a lack of selection with just over a dozen choices: the Audi e-tron, BMW i3, Chevy Bolt EV, Hyundai Ioniq Electric, Hyundai Kona Electric, Jaguar I-PACE, Kia Niro EV, MINI Cooper SE, Nissan LEAF, Porsche Taycan, and the Tesla Model 3, Model Y, Model X, and Model S. Of these, not a single vehicle has an MSRP under $30,000 with destination before any incentives.
Of the EVs you can buy today, the 2020 MINI Cooper SE is the cheapest with an MSRP of $30,750. Meanwhile, the cheapest gas-powered car costs less than half that at just $14,395 for a 2020 Chevy Spark LS with manual transmission. The SE is a special order vehicle with a range of just 110 miles but the potential to cost closer to $21,000 after a $7,500 tax credit and $2,000 California Clean Vehicle Rebate.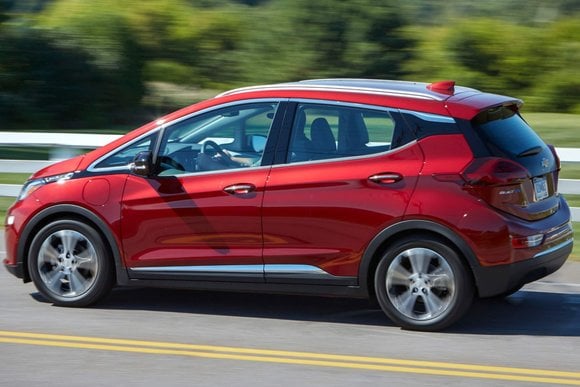 Most EVs continue to rely on a variety of incentives to stimulate demand. For example, even though the 2020 Chevy Bolt EV is no longer eligible for a tax credit, GM is offsetting that with its own discounts. In fact, an unusual combination of manufacturer incentives right now can allow you to lease one from as little as $154 for 36 months with $154 due at signing in San Francisco, one of the best leases on a car.
Finding the best deal on an EV isn't always easy. According to Cox Automotive, while nearly half of U.S. states offer EV incentives, eight out of ten consumers don't even know such offers are available. At this point, 2035 is a long way off and the California Air Resources Board has been tasked with developing the regulations. The mandate targets new cars, so owners with an existing gas car will still be able to drive one.
Having said all of that, there are important questions that need to be answered. For example, plug-in hybrids generally offer more range than EVs by using a gas engine but would potentially be banned since they aren't 100% zero-emission vehicles. A ban on well-known gas-electric models like the Toyota Prius could be an odd-sounding prospect. In addition to fuel-efficiency, hybrids often rank among the best deals.
For now, factors like affordability, charging station availability, and how this could impact future vehicle development appear to pose serious challenges. Exacerbated by fundamental differences in policy with the Trump administration, these appear to be questions suited to the monumental challenge of how America's most populous state can best address the realities of climate change in the years ahead.