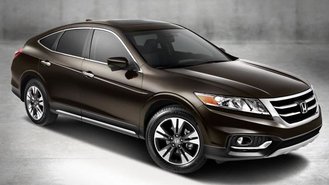 Now that the Honda Crosstour has been discontinued, shoppers will have one less option in the crowded crossover segment. Although conventional wisdom would suggest incentives will last until the last car has been sold, that may not be the case here. Time may be running out to score a great deal before supplies run out. Here's what you need to know.
What happened
Poor sales have compelled Honda to discontinue the Crosstour. At its height, Honda sold 28,851 of them in 2010. Last month, only 742 were reportedly sold. A similar tale can be told of the Toyota Venza, which was also discontinued this year.
The car was meant to appeal to crossover shoppers before most people even knew what a crossover was. The segment evolved, and tweaks like a 4-cylinder option in 2012 and a design refresh didn't do much to change the car's fate. Production will end with the current model year.
Read our overview of the Honda Crosstour>>
Offers you see, offers you don't see
Currently, the 2015 Crosstour can be leased for $299 per month for 36 months and $2,799 due at signing. The offers are set to expire April 13. What you may not know is Honda has $2,250 in dealer cash incentives that allow the car to be sold below invoice.
As the name implies, it's up to dealers whether or not to pass the savings to shoppers. On a slow-moving car like the Crosstour, we find dealers are motivated to sell at the best price possible.
See all the best leases of the month>>
Why Honda is different
Conventional wisdom is that automakers will use incentives to sell every last car on the lot. But Honda tends to handle things a bit differently.
Unlike most automakers, Honda tends to cancel incentives sooner rather than later, before cars start selling out. Dealer cash offers in particular tend to be canceled before cars become too hard to find.
See the entire current Honda lineup>>
Our take
The next 30 days will likely reveal what Honda is going to do. If you've been on the fence about buying a Crosstour and want to buy one while they're still available, we may be approaching the end of hefty dealer cash incentives that have been supporting low prices.
Find out how much you can save on a Honda Crosstour>>
Looking for the best way to keep track of purchase and lease deals? Check out our CarsDirect Pricing Insider and Deals Articles pages for tips and advice on picking the right time to buy or lease your favorite car or truck.
Offers listed here are based on a resident in Southern California. Lease offers are based on top-tier credit and exclude tax, license, title, registration, document fees and insurance. Please check with your CarsDirect Trusted Dealer for complete details.