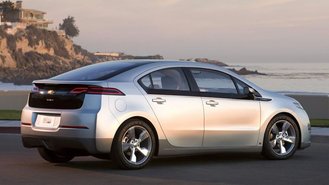 General Motors is preparing to begin building the redesigned Chevy Volt. The automaker has announced that customary factory retooling will begin in May, meaning the 2015 Volt will cease production next month. But does this mean cars will become hard to find or that deals will change significantly? We think not- and here's why.
A slower seller
The Volt has relied on big subsidies to keep the $35,170 car appealing to shoppers. Originally, it was almost a $40,000 car before a $5,000 price cut in 2014. Even today, it's priced over $4,300 higher than its closest competitor, the Toyota Prius Plug-in.
If pricing wasn't a detractor, shoppers who've seen the 2016 model are holding out until later this year for what is almost certainly a superior car. Volt inventory nearly doubled in March to 159 days from 87 in 2014. The industry average was 69 days.
Side-by-side: Chevy Volt vs. Toyota Prius Plug-in>>
Current offers
Shoppers looking to purchase a Volt will find a $1,000 standard rebate this month. But the best deal continues to be on the lease.
Through April 30, you can lease a 2015 Volt for $299 per month for 39 months with $1,449 due at signing. If you lease a competitor, a $1,000 discount knocks the amount due at signing down to $949. There isn't a better lease deal right now on a plug-in hybrid.
The car also qualifies for a Federal tax credit up to $7,500. States like California also offer bonuses like a $1,500 Clean Vehicle Rebate. Another benefit is less obvious- the car qualifies for unrestricted HOV lane access in states like California.
Read our exclusive buying analysis for the Chevy Volt>>
Will Volt deals get better?
Based on what we typically see, GM doesn't make big moves when it comes to Volt incentives. This may be counter-intuitive given that we're accustomed to seeing thousands off their other models.
The Volt has been subject to oversupply before and the automaker chose to scale back production rather than release bigger rebates. The best discounts may come in the form of certificates that GM has issued to dealers in the past.
These are special incentives used behind the scenes in order to avoid advertising huge discounts. Not all dealers take advantage of these, and we've seen this result in big variances in local prices.
The best green car deals this month>>
Our take
If you've seen the 2016 model, it makes a compelling case as a superior successor. But just because GM is halting production and has an oversupply doesn't necessarily mean we'll start seeing incentives double or triple like we've seen elsewhere.
We'll be watching closely and will let you know if we see anything happening behind the scenes that end up making the 2015 Volt a more compelling buy.
Get a custom lease quote on a Chevrolet Volt>>
Looking for the best way to keep track of purchase and lease deals? Check out our CarsDirect Pricing Insider and Deals Articles pages for tips and advice on picking the right time to buy or lease your favorite car or truck.
Offers listed here are based on a resident in Southern California. Lease offers are based on top-tier credit and exclude tax, license, title, registration, document fees and insurance. Please check with your CarsDirect Trusted Dealer for complete details.